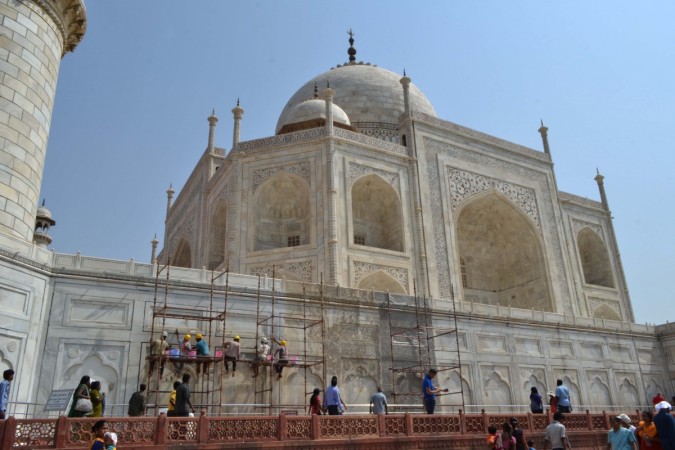 The pinnacle of one of the four minarets of the Taj Mahal was reportedly found on the floor Monday afternoon while maintenance work was underway at the site in Agra. The pinnacle was said to have broken, but the Archaeological Survey of India (ASI) officials said it was removed.
State chief of the Smarak Suraksha Samiti blamed the ASI for negligence that caused the damage to the minaret of the ancient marble mausoleum. Chemical cleaning of the 17th century monument is underway since the last few months.
"Beautification work was on for Taj Mahal minar, all of a sudden its pinnacle broke into two pieces.
This never happened before, this happened due to ASI's neglect," Asian News International quoted the state chief as saying.
However, ASI's superintending archaeologist Bhuvan Vikram had told Indo-Asian News Service that the pinnacle did not break, it was removed because of its weak condition.
According to the Hindustan Times, the ASI official said monkeys could have caused damage to the structure. "The pinnacle did not fall down and is lying at the platform laid around for chemical cleaning. It would be repaired and pinnacle placed by tomorrow (Tuesday)," Bhuvan Vikram Singh told the HT.
The incident happened days before Prince William and Kate Middleton's visit to the Taj Mahal. The Duke and Duchess of Cambridge, who will be in India next month, will visit the ancient monument April 16. Prince William's mother DIana, the Princess of Wales, visited the Taj Mahal in 1992.
"The Taj Mahal is one of the symbols of India and Their Royal Highnesses cannot wait to see it with their own eyes. The Duke of Cambridge is of course aware of the huge esteem his mother, the late Princess of Wales is held in India and he appreciates the iconic status of the images that exist of The Princess at the Taj," the Telegraph UK quoted Duke's spokesman as saying.
"He feels incredibly lucky to visit a place where his mother's memory is kept alive by so many who travel there. Twenty-four years on from her visit to the Taj, The Duke and The Duchess are looking forward to seeing this beautiful place for themselves and creating some new memories as they say thank you to the people of India at the conclusion of this tour," he added.
This never happened before, this happeend due to ASI's neglect: State Chief, Smarak Suraksha Samiti pic.twitter.com/2PBEHLRwHg

— ANI UP (@ANINewsUP) March 29, 2016