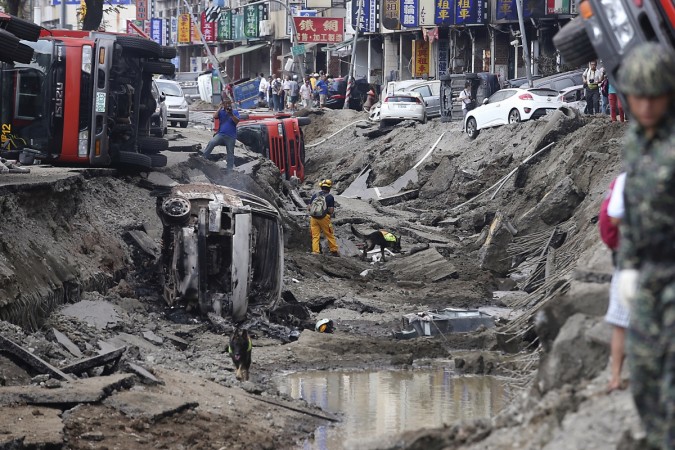 At least 24 people were killed and around 271 others injured, as a series of powerful underground explosions caused by suspected gas leakage rocked Kaohsiung,Taiwan's second-largest city.
The blast – thought to be the nation's deadliest gas explosion – started in Kaohsiung just before midnight after officials arrived at the scene to investigate reports of gas leaks at 8:46 pm, the National Fire Agency said in a statement. Among the dead were four policemen and fire fighters, who were investigating the suspected leakage.
Various local media have reported that the death toll is likely to rise sharply over the coming hours or days.
China's Xinhua News agency reported citing an unnamed witness that smell of gas was sensed at about 9 pm local time on Thursday and local fire-fighters were immediately notified about the situation. At about 11:55 pm, the city was rocked with several explosions that occurred one after another.
The powerful blasts blew open two roads located directly above the underground gas leakage site, causing huge fires and massive plumes of smoke that bellowed into the night sky. Cars were overturned in impact.
Images aired by broadcaster ETTV showed many other vehicles flipped on their sides as fires blazed. City street – at least a block long—were seen caved in as front windows of stores and houses were broken. Rescue workers were also seen climbing though the rubble of homes looking for survivors.
The causes of the explosions are officially being investigated with initial assessment suggesting that the blasts followed a leak of propylene, a gas used to make plastics and fabrics, Taiwan's Minister of Economic Affairs Chang Chia-juch said in a televised statement. He added that the fire had been brought under control.
Residents told the media that the blasts shook buildings like there was an earthquake and toppled smaller shops. Rescuers formed a chain to pull dozens of injured from a vast crater in the street and forced their way through the piles of rubble as they ferried the injured on stretchers, Reuters reported.
Victims choked by smoke were resuscitated in the nearby street.
Taiwan Ministry of Economic Affairs said in a statement that the blasts cut gas supplies to 23,600 households, power to 7,536 households and 8,000 homes were without water as of 9:30 am Friday.