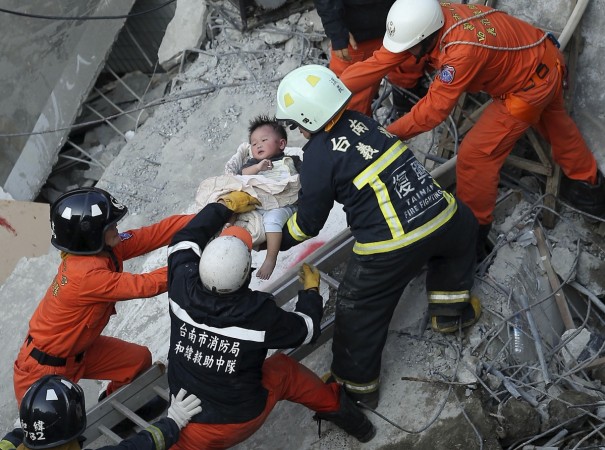 At least 24 people in southern Taiwan have been confirmed as killed as of Sunday afternoon even as rescue teams are looking for over 100 others trapped under the debris, Channel News Asia reports.
A quake measuring 6.4 on the Richter scale rattled the Taiwanese city of Tainan on Saturday morning. Tainan City Fire Department was quoted by CNA as saying that as many as 121 people are still missing, while 282 have been rescued so far.
Of the total missing people, four are reportedly college students trapped under the rubble of a building in the Yongkang district, while another 21 are residents of the 16-storey Weiguan Jinlong Building, and are trapped inside the collapsed block.
The number of injured has reached 500, of whom at least 92 are undergoing treatment, BBC reports.
Taiwanese rescue teams, police and soldiers are trying to pull out people trapped under the debris. Most of them are buried deep beneath the collapsed residential building, Tainan Mayor Lai Ching-te said.
China has sent a rescue team of two members — Liao Hsin-ming and his wife Liao Wei — to work alongside Tainan rescue workers to save people trapped under collapsed buildings. It is expected to send 12 more rescue workers later on Sunday.
The Japanese government has sent a five-member disaster evaluation team that met Lai and visited the Weiguan Jinlong residential building, which was affected the worst in the quake, according to CNA.