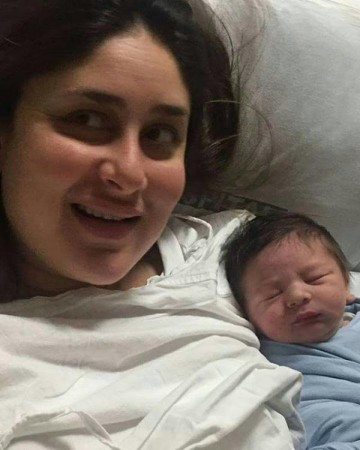 Two pictures of Kareena Kapoor Khan along with a baby that was supposed to be Taimur Ali Khan have been going viral on social media. Sadly, both the pictures appear to be fake.
Soon after the news of Saif Ali Khan wife Kareena delivering her first child came out, a picture of her kissing the baby boy on a hospital bed started doing the rounds on Twitter and Facebook. Another picture popped up that showed Kareena smiling to a camera with her baby sleeping beside her on the hospital bed.
Both the pictures look very authentic and hence everyone believed it to be true. However, a report in Bollywoodlife quoted Kareena's father Randhir Kapoor and confirmed that the first photo is fake. It is just another brilliant work by some photoshop expert.
However, there has not been any confirmation if the second picture of Kareena smiling to the camera is real or fake. But a closer look in both the pictures suggest that the pillow on which Bebo is resting her head are the same in both the images. The pillow has a green bordering with some texts in both the pictures. Hence, if the first image is fake, there is all the probability that the second picture is also fake.
This is actually the second instance of an edited fake picture of Kareena and her baby. Earlier, another photo of Kareena and Saif along with a baby had made it to the internet, suggesting that to be Taimur's first picture. However, it was a fake picture that surprisingly went viral even before the birth of the child.
Meanwhile, Saif and Kareena having named their baby boy as Taimur Ali Khan Pataudi has created a controversy. Many people have been objecting to the name as it seems to be after one of the cruelest rulers Timur, who was the man behind in a Hindu genocide in India long back in the late fourteenth century. Check the fake picture of Kareena with her baby below.
People on social media have been slamming the couple for naming the newborn after such a cruel person from history. Nevertheless, there are many others who have been saying that the name of Saif and Kareena is no one's business and people should refrain from making such comments.