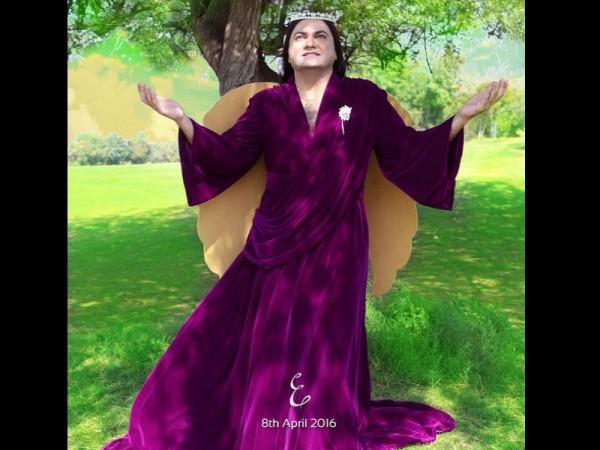 Taher Shah, the Pakistan singer who seldom fails to create online sensation, has now generated some more hullaballoo on the internet with his latest song "Angel." The song was released April 8 and became viral in no time, crossing over 9 lakh views on YouTube as of Monday.
The video of "Angel" shows Taher dressed as an angel, in a purple gown and a blue gown, teamed with a crown and huge wings. It also features a woman and a child, all dressed in similar fashion.
Taher has been trending on Twitter for his appearance in the video, as also for the simplistic lyrics. As expected, a series of memes have come up, trolling the singer and making him an internet favourite once again. Many celebrities also took to Twitter to express their views after watching "Angel."
The reactions range from being funny to supportive, with some appreciating his courage for making the video of the song.
Meanwhile, Taher has shared his ideology behind making the song "Angel." He took to his blog and posted a long note, explaining the inspiration behind the song. "Mankind is a beautiful 'Angel'. Loneliness, love and children are the key elements in his life. Life is god's gift, loneliness itself is a lesson, Love is heaven and children are 'Angels'. These three aspects all have the same meaning that humans should spread love, in loneliness express love then for their children and the world. Since 'Angel' like love truly is life's actual meaning and beauty with this in mind I created the poetry and wrote this song 'Angel' [sic]." Click here to read the full note.
Taher had first appeared in 2013 with the song video "Eye To Eye," that had made him immensely popular on the Internet for similar reasons, including the comic lyrics.
Check the video of the song "Angel" below and also the series of jokes and memes on Taher Shah that followed: