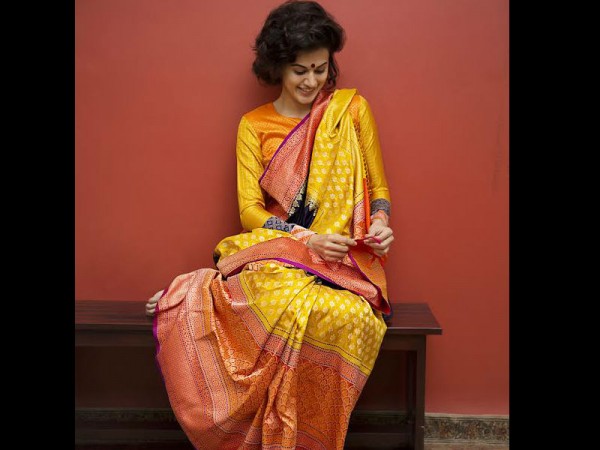 Taapsee Pannu, who opts for styles that are classic, comfortable and trendy, has fallen instantly in love with the chic look that Gaurang and his weavers have created, which is inspired by ancient art of Bidri. It is a beautiful convergence of design, color, texture woven in 6 yards.
The Hyderabad-based Indian textile revivalist Gaurang says, "Taapsee sports the saree with impeccable grace and élan. Every collection is a new vision, and my ultimate goal is to "offer women versatility while evoking confidence, comfort and a sense of beauty. She is a perfect example of modernity and style."
His new collections is an array of exquisite sarees, lehengas, ghagras . The designs in bidri include small floral motifs, geometric designs and influence from persian architecture. Taking inspiration from the fine silver filigree inlay from Bidar, Gaurang has translated the delicate motifs and artwork of Bidri into the rich Benarasi weave using Jamdani. These designs have been incorporated in an array of yellow and orange huge border, contrasted with a navy blue body, and a coordinated blouse. ​​
Gaurangs creativity spans the broad spectrum of Indian Cotton, silks and khadi textile design, styling crafted for bridal and special occasion wear for men and women.The designer has showcased his collections at various international fashion weeks like Lavera Eco Fashion Week in Berlin, Lakme Fashion Week and in Dubai.
His label Gaurang and Vaya by Heritage retail in New Delhi, Mumbai, Kolkatta, Chennai and Hyderabad.