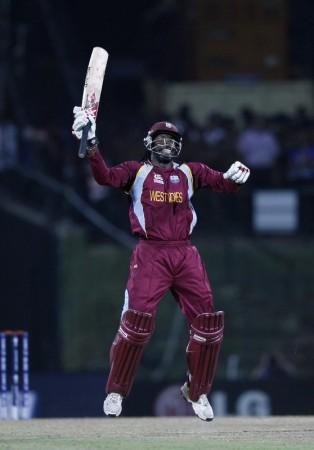 Another Super Over, another heart-breaking loss for New Zealand.
The Kiwis feel short yet again in the lottery over, this time to the West Indies, who stayed alive in the tournament courtesy a couple of sixes from their main man Chris Gayle and Marlon Samuels.
After tying the scores at 139, the crucial Super Eights encounter of the World T20 at the Pallekele Stadium, which would have seen the loser eliminated from the tournament, went into the Super Over. Ross Taylor, after playing a stellar 62 from 40 balls in the actual 20-over innings, starred yet again, scoring 15 runs on his own as the Kiwis set the Windies a target of 18.
When you have a man that goes by the name of Gayle - easily the most destructive world cricket today - any score is surmountable. The Jamaican did just that, spanking a six off the first ball of Tim Southee, which disastrously for the Kiwis also turned out to be a no-ball. The ensuing free hit only produced a single, which brought Samuels, who bowled both the 20th over and the Super Over on strike.
West Indies got five off the next four deliveries - which included a wide - meaning the Caribbean side required six from two deliveries, and Samuels ensured there would be no last-ball drama, blasting the fifth Tim Southee delivery off the park to send the West Indies side to raptures.
Earlier, New Zealand, on the back of a brilliant half-century from their captain Taylor clawed their way to the target. At one point the New Zealanders looked to be cruising, needing just 25 runs from 21 balls. But the mystery spinner Sunil Narine, who surprisingly did not bowl the Super Over, picked up two wickets in his final two overs- the 17th and 19th - for just five runs to take the game into the final over, where the Kiwis needed 14.
Taylor and Nathan McCullum could only manage 13, taking the match into the Super Over.
In the first innings, the Caribbean side imploded in the final ten overs, after Gayle, who else, gave them an explosive start, taking his side to over 60 runs in the six powerplay overs.
But once the left-handed tyro got out, the rest of the West Indies side fell down like a house of cards, eventually managing to eke out 139 runs.
The Kiwis, however, when they needed to take the match by the scruff of the neck and make a statement of intent, did not come to the party, suffering another defeat in the Super Over - essentially making them the England of penalty shootouts in football.
West Indies will now have to wait for the Sri-Lanka-England game to see if they have progressed through to the semi-finals.