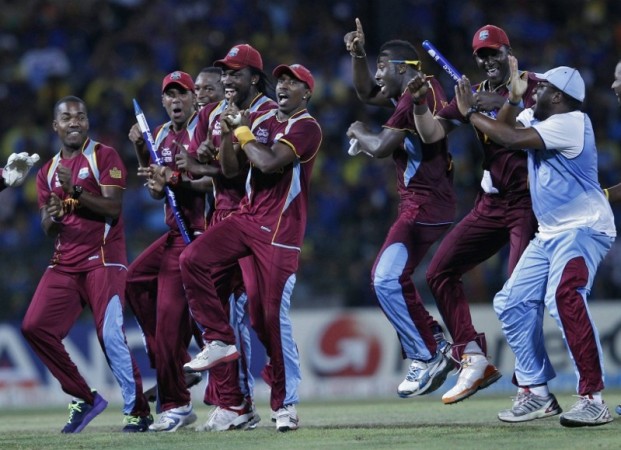 Nobody can celebrate a win like the West Indians!
West Indies were due a brilliant tournament, and there is no better format suited to them than T20. Nobody can match the charisma and the party atmosphere that West Indies bring onto the field, making them no doubt everybody's second favourite team.
The dance moves began with full gusto, as Marlon Samuels put on a T20 batting masterclass, with the bowlers stepping up to the plate when their batting counterparts had largely faltered, giving the West Indies a massive 36-run victory against hosts Sri Lanka in the final of the World T20 at the Premadasa Stadium - their first World Cup since 1979.
West Indies were installed by the bookmakers as one of the pre-tournament favorites, but rarely do the modern-day Windies teams live up to their billing. However, the last two matches brought out the best in the men from the Caribbean islands - handling the pressure wonderfully well and deservedly taking home the right to be called world champs.
Mahela Jaywardene's men will be kicking themself for losing the final, though, from a seemingly comfortable position. Needing a target of 138, after Samuels played a blitzkrieg of epic proportions to propel his team to a challenging total, Sri Lanka faltered in almost every phase, ending their innings tamely on 101 all out; Sunil Narine again was the wrecker-in-chief, taking three wickets from 3.4 over for just nine runs.
Tillakaratne Dilshan was the first man to be dismissed, clean bowled off a perfect delivery from Ravi Rampaul. Then the most bizarre phase of the innings unfolded - Jayawardene and Kumar Sangakkara, easily two of Lanka's most experienced pair, put on a slow, and what must be said poor partnership, scoring 42 runs from 50 deliveries.
If they started slow, the duo needed to ensure they stayed on till at least the 15th over, but once Sangakkara got out for a 26-ball 22 in the tenth over, the pressure on Jayawardene to take Sri Lanka home single-handedly was too much to bear, as the inexperience of the fragile-looking middle order was laid bare.
The captain was given every opportunity to guide his side to victory, the West Indians dropping him on two occasions. But a reverse sweep that went awry, took his wicket away and with it Sri Lanka's hopes of pulling off their first ever World T20 title on home soil, much to the disappointment of the capacity partisan crowd.
Earlier, West Indies got to horrible start, their main man Chris Gayle failing to fire for once. The first to fall, however, was the big Jamaican's opening partner - Johnson Charles.
Bogged down by Angelo Mathews' first over, Charles looked for an expansive pull shot that was never on, in the fifth delivery, top edging one to Nuwan Kulasekara at mid-off.
Gayle was incredibly sedate, clearly the fact that this was the final of a World Cup and the loss of the first wicket, getting to the normally carefree left hander.
It took Gayle nine balls to get his first run, and once Ajantha Mendis came on in the sixth over, Gayle was struggling even further, being overcautious a little too much for anybody's liking. Whenever a naturally aggressive player curbs his strokes to such an extreme limit, it never bodes well for them, and that is exactly what happened, as Mendis trapped the best T20 batsman in the world in front of the wicket.
West Indies were 14 for 2 in 5.5 overs when Dwayne Bravo came onto the crease to accompany Marlon Samuels, and they painstakingly set about doing the repair job. West Indies, after the first half of the innings were a lowly 32 for two, meaning they needed at least 100 runs from the final ten overs to leave them with a chance. That is precisely what happened as Samuels batted the second half of his innings like a man possessed.
In between that, however, Mendis bowled a little gem of a quartet of overs - picking up four wickets - two of them in two balls - for just 12 runs - on any other day that spell would have been enough to win any match.
Lasith Malinga, widely considered to be the best T20 bowler out there, was at the receiving end of Smuels' ire - the slingy paceman going for an astounding 54 from his four overs, Samuels smashing three sixes off the bowler in one over.
Samuels knew one batsman needed to kick on, and from well under a run a ball, the West Indies all-rounder raced past his half-century before finally getting out for a brilliant 56-ball 78, packed with three fours and six sixes.
The 31-year-old had put the Windies on course for around 135-140, and Darren Sammy ensured they got there, playing a quickfire 26 off 15 deliveries, as West Indies ended up on 137, which proved to be more than enough.
Now the entire cricketing fraternity will be hoping the Caribbean team takes the World Cup win as a springboard for further success in all formats of the game, particularly Test cricket, where they were once the most feared teams of all-time.