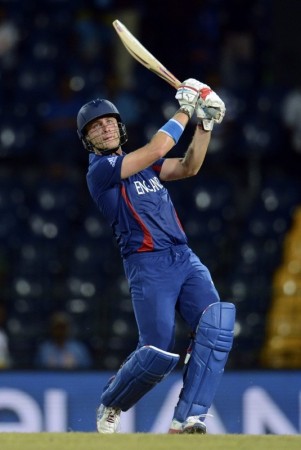 Two magnificent individual displays of attacking batting - one from someone we expect to see that kind of innings on a regular basis and one from a forgotten man of England - lit up the World T20 on Friday.
Brendon McCullum smashed his way to the highest score of all-time in T20 internationals with an authoritative 123 of just 58 balls - yes 58 balls! - to end any chance of Bangladesh getting a sniff of victory.
Luke Wright fell one short of the magical three figures with a 55-ball 99, taking England to 196 for five, with the English bowlers then bowling out Afghanistan for 80.
Friday afternoon was all about McCullum, whose 158 for Kolkata Knight Riders against Royal Challengers Bangalore in the first edition of the IPL still remains a vivid memory. The New Zealand opener bludgeoned the Bangladeshi bowling, like it was a school team - their trio of left-arm spinners included, hitting the Asian team's bowlers for 11 fours and seven sixes and pretty-much single-handedly taking the Kiwis to 191 from their 20 overs.
Facing the daunting total, Bangladesh never really hit their stride, with the only meaningful contribution coming from Nasir Hossain (50 off 39 balls), as they fell 59 runs short of the Kiwi total, ending up on 132 for eight in 20 overs.
In the second match of the day, Wright took the run-scoring mantle from McCullum, smashing six sixes and eight fours to take the defending champions to 196, when at one point it looked like they would struggle to 150.
What certainly helped though was an eight-ball 19th over, which remarkably included a wicket, that went for a massive 32 runs, with Wright helping himself to three sixes.
The only question that remained in the final over of England's innings was whether Wright would get to his maiden hundred, with the all-rounder on 95 when the last over began.
Unfortunately for the Englishman, he could only hit a double of the last ball, when on 97, leading to the one-down batsman ending up on 99.
Afghanistan were never in the game, losing their first two wickets with just two runs on the board, the belligerence shown by the openers against India in their opening match, nowhere on show.
The disastrous opening got even worse when 2 for two soon became 26 for eight, before some typical no-nonsense hitting from the tailenders took the Afghans to a respectable 82 all out; Guldoin Naib top-scoring with an entertaining and carefree 44.
The English bowlers shared the wickets between them, with captain Stuart Broad, Samit Patel, Jade Dernbach and Graeme Swan picking up two wickets each.
Now the India and England game on Sunday is essentially a dead rubber, with both sides already qualifying for the Super Eights.