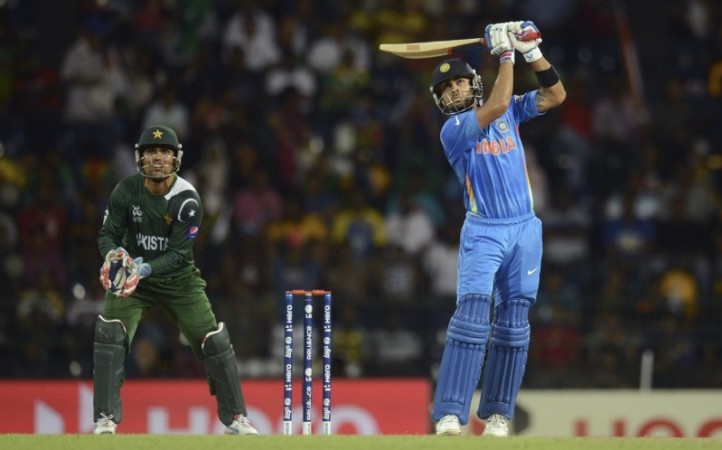 India vs Pakistan matches are usually nail-biting, thrill-a-minute games that keeps everyone on the edge of their seat. Not the World T20 Super Eight match played on Sunday at the Premadasa Stadium in Colombo though.
India's supreme batsman of the moment - Virat Kohli - guided his side to a crushing eight-wicket win over their archrivals Pakistan, getting the 2007 champs back on track after their disastrous outing against the Australians.
Needing a modest 129, after India's bowlers had done a wonderful job, Kohli scored an unbeaten 78 from a mere 61 balls as India reached their target with a full three overs to spare.
Gautam Gambhir, reunited with his regular opening partner Virender Sehwag, got out in the second ball of the Indian innings, caught and bowled of left-arm spinner Raza Hasan's bowling. If that wicket was supposed to send jitters down the spines of the Indian batsmen, it did not even remotely show, as Sehwag and Kohli wonderfull allied for 74 runs.
Sehwag and Kohli, when on song, are a wonderful treat to watch as the duo, without really taking any risks, systematically broke down the Pakistani bowling. Sehwag, as always, needlessly threw his wicket away while on 29 off 24 balls, with the Indians needing a further 54 runs.
Yuvraj Singh, who has a good outing the ball in his hand earlier in the game, was calmness personified and gave good company to the indefatigable Kohli, India cruising home with plenty to spare.
Earlier, the bowling that had gone missing in the game against Australia, came to the party, all of them doing their job splendidly to restrict the Pakistanis.
Zaheer started with a wayward opening over, but once Irfan Pathan trapped Imran Nazir, after the opener had French cut the previous delivery for four, that set the tone for the rest of the innings - Pakistan struggling to find momentum as India choked their batsmen and forced them to make mistakes.
Ashwin, who was one of the biggest flops against the Aussies in the first Super Eights game, was back in his elements; his variety and guile causing all sorts of problems.
Shahid Afridi, sent in at No. 3 to attack the bowling, threatened with a couple of lusty blows, but predictably hauled out in the deep off the excellent L Balaji's bowling; Raina taking a smart catch right at the edge of the boundary at square leg after the Tamil Nadu bowler had dropped in a short one inciting the belligerent hitter to go for a big one.
Yuvraj needed to get his quota of overs in after India went for seven batsmen, and the left-armer did just that, picking up two crucial wickets - Nasir Jamshed and Kamran Akmal - to end with impressive figures of two for 16.
Ashwin then sent Shoaib Malik packing, before the Pakistani tail folded up rather timidly, ending up on 128, which was easily conquered by the Indians.
In the first match, Shane Watson continued his outstanding tournament, putting in another all-round performance (two for 29 and 70) to crush South Africa.
Put into bat, the Proteas again flattered to deceive, with a late blitz from Robin Peterson taking them to a respectable 146 for five. In reply, despite losing the dangerous David Warner early on, Watson, unfettered, stroked boundaries at will, scoring 70 off 47 balls.
The South Africans were also extremely poor in the field, dropping catches and misfielding a number of times, which in turn made the Aussies' task easier. Mike Hussey (45 off 37) and Cameron White saw the game through eight wickets and over two overs remaining.
India's win now sets up Group 2 perfectly, with all four teams still very much in with a chance to go through to the semi-finals.