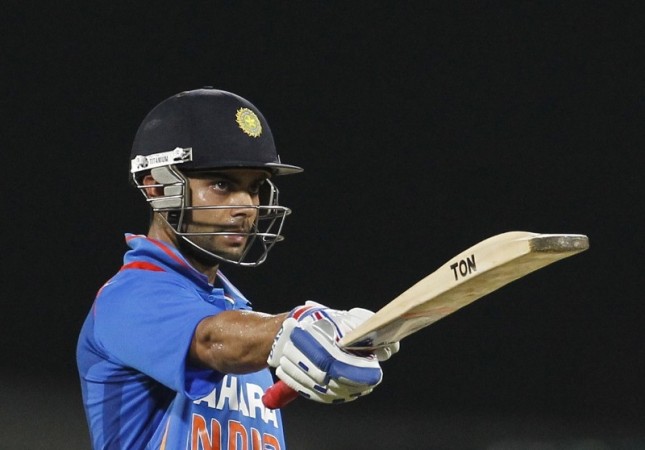 It was hardly vintage India, far from it. Mahendra Singh Dhoni's men flirted with disaster for much of their first World T20 game against Afghanistan, before pulling off an edgy 23-run win.
India made heavy weather of their batting, labouring to 159 for five, with Virat Kohli hitting a half-century and Suresh Raina chipping in with a 38, before bowling out Afghanistan for 136, when it once looked like the minnows would pull off one of the biggest upsets in history at the Premadasa Stadium in Colombo.
The Afghans, in reply to the total, started belligerently with Mohammad Shahzad and Nawroz Mangal determined to make a game of it.
Afghanistan raced to 26, before Shahzad got out for a 16-ball 18. Mangal and Karim Sadiq then put in a similar partnership, captain Mangal (22) the second wicket to fall with the score reading 52 in 7.1 overs. Sadiq hung around for a few more overs, and then the underdogs lost the plot, by losing three wickets in quick succession - Yuvraj Singh picking up two of those in consecutive deliveries; the left-armer ended with figures of three for 24.
Mohammad Nabi refused to give up, hitting a few lusty blows, but once the all-rounder fell for a well-played 31 off 17, the writing was on the wall.
India slowly picked up the rest of the wickets and will breathe a heavy sigh of relief, to come out unscathed from their opening match.
In India's batting innings, the team struggled to 159 for five, with nobody really finding the rhythm you would expect against an inexperienced team like Afghanistan.
Gautam Gambhir and Virender Sehwag barely got out of first gear, both the openers struggling to build any momentum. Gambhir was the first to go, playing on off the impressive Shapoor Zadran's bowling for 10.
Sehwag did not last much longer, catching a thin edge to the wicketkeeper Shahzad, with Zadran scalping his second wicket.
That again put the impetus on Kohli, who has been in blinding form over the past twelve months, to carry India to a decent total; and like he has for quite some time now, the Royal Challengers Bangalore batsman did exactly that with a half-century, although he was helped by some poor fielding from the Afghans.
The underdog team were bowling really well, disciplined and making use of whatever the pitch was giving them. Their fielding, however, was the big let-down. The lesser-fancied team, when they needed to hang onto every possible chance, dropped four catches - if you take into account the relatively difficult one off Yuvraj - with Kohli getting one life, while Suresh Raina, who made 38 off 33 balls, received two.
Yuvraj looked good initially, scorching a straight six to get off the mark, but gave away his wicket, lazily cutting a delivery to short third man for 18 off 20 deliveries.
Raina and Kohli shared an alliance of 46 in 33 balls, the latter falling for 50, with just a little over four overs to go. Mahendra Singh Dhoni came in at No. 6, and finished off things nicely for the Indians, a four and a six off the last two deliveries, after Raina had fallen in the final over, taking India to 159.
Earlier in the day, a 30-ball 51 coupled with three wickets from Shane Watson helped Australia to a crushing seven-wicket victory over Ireland. After restricting the Irish to just 123 for seven off their 20 overs, Watson, opening the innings, laid into the bowling right from the off.
Ireland just did not have enough runs on the board to cause problems to the Aussies, with last edition's finalists reaching their target with 29 balls to spare.