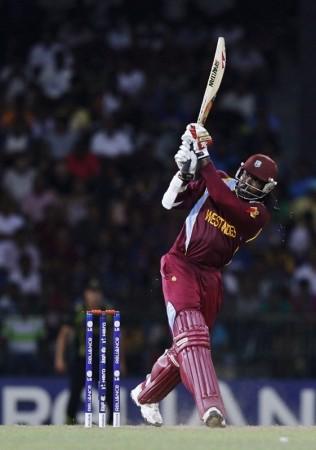 Well, this was a thrashing of epic proportions!
West Indies had one of those days when everything went right in their World T20 semi-final. Chris Gayle (75 off 41) played a blistering innings, all of their other batsmen chipped in, Kieron Pollard had one of those nights where everything he hit found the boundary, and the bowlers hit the right areas, leaving Australia clueless.
The moment West Indies posted a massive total of 205, the game was almost out of Australia's reach. And once David Warner, Shane Watson and Mike Hussey got out with little to no score on the board, the proverbial fat lady had begun to sing.
Australia ended up on 131 all out, a stunning 74 runs short of West Indies' score, as the Caribbean side started their celebrations with one of many dances. West Indies will now face Sri Lanka in the final on Sunday, in what promises to be a brilliant contest, if both the teams show their true potential.
It all began with Johnson Charles struggling in the opening over, and potentially blocking the Gayle Storm that everyone wanted to see. After a couple of bludgeons, Charles exited for a 13-ball 10.
Marlon Samuels came into the crease, just as Gayle started to warm up, hitting one of those ridiculously easy looking sixes off Shane Watson.
Samuels was a bit lucky in the next over - the sixth of the innings -- not to be given out lbw off Xavier Doherty's bowling, making the most of his lifeline with a massive straight six.
Gayle, not one to allow his partner to have all the fun, got in on the act in the same over, lofting the left-arm spinner for another massive six.
Sixes rained all day - 14 to be exact, with just 13 fours - as West Indies went from strength to strength. The wicket of Samuels (26 from 20), brought in Dwayne Bravo, who took his time, before continuing the assault along with Gayle. Bravo made a 30-ball 39, before perishing to Pat Cummins.
That brought Kieron Pollard to the crease -- along with Gayle potentially the most destructive duo in World T20. Rarely does Pollard find the right form, but Friday was one of those days.
Everything he hit was perfect, and with Gayle, who probably should have gotten more of the strike in the innings, having played just 41 deliveries, the Mumbai Indian 65-run partnership from just 25 balls - Pollard scoring 38 of those from a mere 15 deliveries. West Indies scored 25 runs off the final over of the innings which was delivered by Xavier Doherty, taking the total past the 200-run mark.
Australia, knowing they were facing a daunting task, began poorly as David Warner, their most destructive batsman got bowled in the first over of Samuel Badree.
Mike Hussey came in with a purpose, scoring a quickfire 18 off 12 deliveries, before falling in the fourth over. Watson, the man of the tournament up to the semi-finals, fell soon after as Australia found the target too steep.
George Bailey played what would have been a captain's innings on any other day, but his brilliant 63 off 29 deliveries ended up being just a footnote in what was West Indies' day all the way.