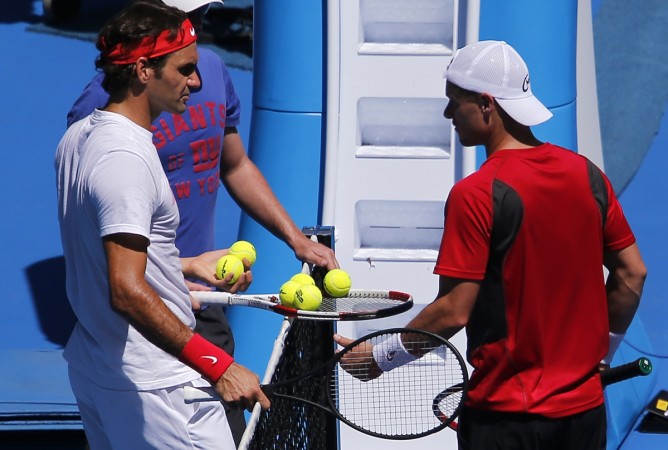 Roger Federer will take on Lleyton Hewitt in the global launch of a new shortened and faster format of tennis at the Qantas Credit Union Arena in Sydney on 12 January, ahead of the 2015 Australian Open.
The 17-time Grand Slam champion will face his long-time rival and Australian no.1 in the exhibition match, which will act as the world premiere of the format developed by Tennis Australia.
Federer and Hewitt will play each other in a best-of-five sets match, which will feature four rule variations - no advantage scoring, no service lets, tiebreakers at three games all and the first to four games wins.
The match is expected to last only around half as a long as a normal five-setter tie. The format has been piloted at clubs across Australia and is now being touted as the 'T20 of tennis', and the organisers are hoping that it will revolutionise tennis all around the globe.
Tennis Australia chief Craig Tiley is confident the new and faster format will take off and also expressed his delight that Federer and Hewitt are involved in the global launch of the event.
"The new format is a game changer and is set to revolutionise the game of tennis, particularly at club and social levels. Time today is precious and this new fast format is perfect for any player who wants to fit their tennis matches into a busy lifestyle," Tennis Australia website quoted Tiley as saying.
"There is no doubt that Roger Federer is one the greatest tennis players we have ever seen. To have Roger and Lleyton, our own great Australian champion, showcase the format for the first time is not only special for Sydney and Australia, but for the sport around the world."
Federer, who had a good season on the tour this year and is fresh from guiding Switzerland to a maiden and much-awaited Davis Cup triumph, stated he is happy to be involved in the world premiere of the new format and also to face Hewitt again.
"I can't wait to come to the beautiful city of Sydney for this very special match against my old friend and rival, Lleyton Hewitt. We've had some amazing battles over the years and I think we still bring out the best in each other every time we play," the world no.2 pointed out.
Federer and Hewitt, who have one of the fiercest rivalries in modern tennis, have faced each other 27 times, with Federer winning 18, though the last four matches have been split 2-2. And the Australian, who won the most recent encounter at the Brisbane International final earlier this year, also looking forward to the clash.
"I'm looking forward to help launch this new fast format of tennis, especially in Sydney. Playing Roger in this new format will be an exciting challenge for both of us and a lot of fun. It's a fantastic innovation for tennis, and one that I hope will take off," Hewitt stressed.