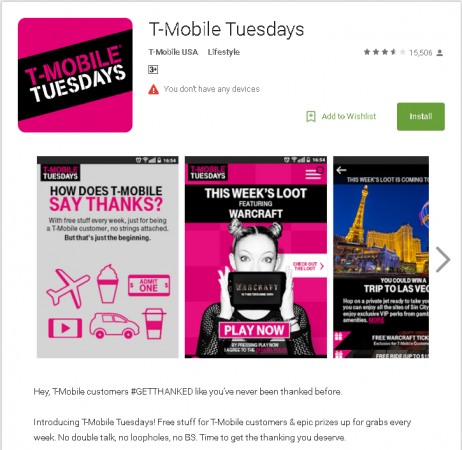 T-Mobile, the popular US mobile carrier has voluntarily jumped on the Pokemon bandwagon by offering one full year's worth of free high-speed data via #GetThanked program. The offer is applicable to all Pokemon users connected to T-Mobile network.
Avid Pokemon fans on T-Mobile network can now grab this offer by downloading the T-Mobile Tuesdays App on or before July 19 (forthcoming Tuesday), which will ensure trouble-free Pokemon hunting for the next 12 months in the US.
In addition, T-Mobile users can also avail free Lyft rides (to reach PokeStops quickly) worth $15 and a free Wendy's Frosty to chill after your hard-fought quest of capturing the elusive Pokemons. Also, one can avail 50% discounts on select accessories from authorised T-Mobile outlets, including portable power banks, which have become a basic necessity especially in the wake of Pokemon GO's high-battery usage scenarios.
What's more? Nearly 250 select users can participate in the weekly draw to win $100 worth of PokeCoins, while 5 of those "epic" winners will be eligible for an all-expenses-paid Pokemon GO hunting trip to any desirable location in the US along with their chosen friend.
If you are already dreaming about being one of those coveted winners, just grab the T-Mobile Tuesday's app via Google Play Store, using the download link below. Then install the app and you are all set to enjoy the exclusive perks from T-Mobile's coffers.
Downloads