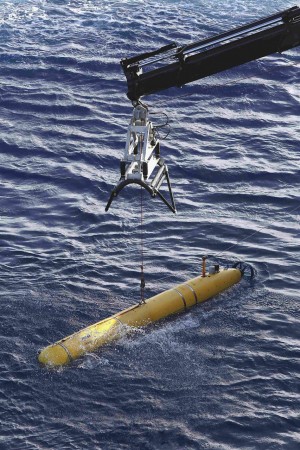 Australian authorities searching for the missing Malaysia Airlines flight MH370 in the depths of the Indian Ocean have said that the Bluefin-21 submersible, which is scanning the bottom of the ocean, has not yielded any result. Therefore, a much more powerful sonar equipment is likely to be used to scan for debris on the seabed.
Australia's defense minister, David Johnston said that more powerful commercial sonar equipment would now be deployed, similar to the system that found the Titanic 3,800m under the Atlantic Ocean in 1985 and the Australian Second World War wreck in the Indian Ocean in 2008, according to the Guardian.
"The next phase, I think, is that we step up with potentially more powerful, more capable side-scan sonar to do deeper water," the British daily quoted Johnston.
This comes after search co-coordinators said on Wednesday that the US navy robotic submarine Bluefin 21 had found nothing even after it had covered more than 80 percent of a zone off the Australian west coast.
The mini-sub was searching a small circle of around 20km around an area where sonar equipment picked up a signal on 8 April consistent with the black box of a plane.
The news also comes just a day after Malaysian newspaper New Straits Times quoted an unnamed source saying that the International team searching for the missing plane in the Ocean could finally scrap the idea that the plane could have crashed and start drawing attention for the possibility that the plane landed somewhere.
The Bluefin, which is currently scaling through the ocean bed has less than one-fifth of the search area left to complete, but that could take another two weeks, Johnston said. If this does not work, the search team will be in need of powerful systems like the one that found Titanic in 1985, he said.
Also Read:
MH370 Did Not Crash? Investigation Team Now Says Plane Possibly Landed Somewhere Else Instead of Ending in Ocean
America Shot Down Missing Malaysia Plane MH370 and Kept it Secret? Conspiracy Theory Goes Viral
(ED:VS)