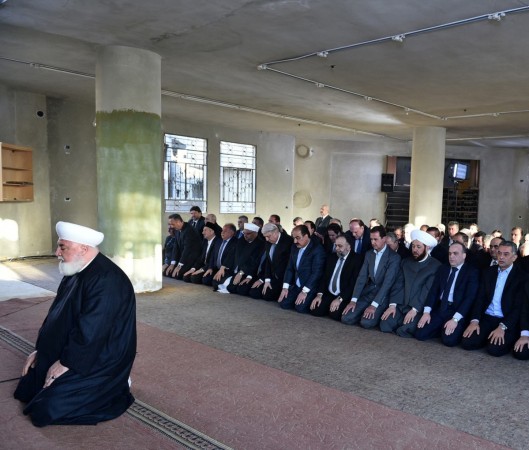 Syrian President Bashar al-Assad reportedly prayed at a mosque in Daraya, a previously rebel-held Damascus suburb, on Monday on the occasion of Bakrid.
The Saad Ibn Muaz Mosque, which had been occupied by rebels and their families until last month, had been a symbol of uprising against Assad.
The president visited the area on the special occasion of Eid al-Adha. The mosque, local reports said, was in bad shape. Visuals from the area show broken window panes and half-painted pillars.
The surrender of the Saad Ibn Muaz Mosque was a severe blow to the rebels in the five-year-long civil war. He also toured Daraya after offering his prayers at the mosque. Assad's gesture on Monday is believed to have rankled the rebels.
Many of the fighters left with their families for the rebel-controlled province of Idlib in northwestern Syria under a locally brokered agreement between the warring sides. Civilians were also evacuated to another government-held area near Damascus.
Assad was pictured kneeling at prayer in a bare hall alongside other worshippers, including the state's grand mufti, in a photo published by state news agency, SANA.
Rebels still hold swaths of the capital's eastern outskirts.
(With inputs from Reuters)