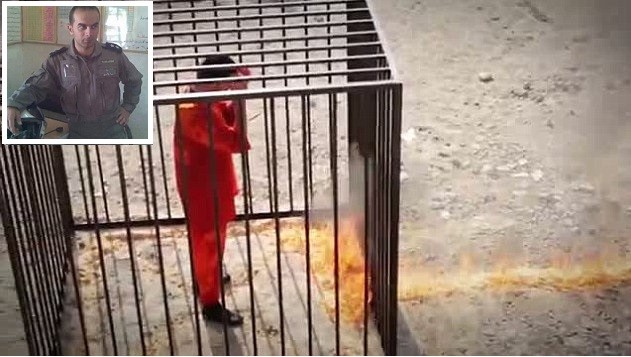 In what seems to be an attempt to save himself from the same fate as the Jordanian pilot, who was burned alive by the Isis, a Syrian fighter pilot, who crash-landed in an Islamic State territory in Syria, shot himself in the head after the jihadist fighters tried to arrest him.
The 29-year-old Syrian fighter pilot, identified as Hassan Mohamed Mahmoud, was flying on a mission over an Isis-controlled area, when his plane developed a technical snag. Syrian news source Shaam Times reported that Mahmoud was able to eject out of the plane in time, but he landed in an Isis-controlled area in Tel Shehab, a small town located in the countryside of Daraa.
The Syrian pilot had reportedly taken off from As-Suwayda military airbase in southwestern Syria, just north of the border with Jordan.
On finding himself surrounded by Isis fighters, the Syrian pilot, instead of surrendering, committed suicide. The Syrian news reports claim that the incident took place last week.
Surprisingly, the Isis social media accounts have been silent on the matter. The extreme step by the Syrian pilot, to take his own life instead of allowing the Isis fighters to capture him
, seems to have been fuelled by the fear of what the Sunni militants did to Jordanian pilot Muath al-Kaseasbeh late last year.
The Isis had captured Muath al-Kaseasbeh on 24 December after his F-16 fighter jet crashed due to a technical snag near Raqqa.
The Isis had in February released a 22-minute video showing the grisly end of Muath al-Kaseasbeh. In the video, the Isis fighters are seen dousing the Jordanian pilot with gasoline and setting him on fire. "His screams are audible as he collapses to his knees. After being killed, the burned man and the cage are buried by a bulldozer," Fox News, which even showed a part of the video, had reported in February.
Later, the Isis released a statement justifying its decision to burn the Jordanian pilot alive. It claimed that "Muath al-Kaseasbeh deserved the punishment as he himself had burnt many civilians alive."
#Syrian pilot Hassan Mahmoud jumped out of his warplane, was surrounded by #ISIS militants. He shot himself dead pic.twitter.com/WgjM4unhlX

— Ahmad Al-Issa (@ahmadalissa) June 9, 2015