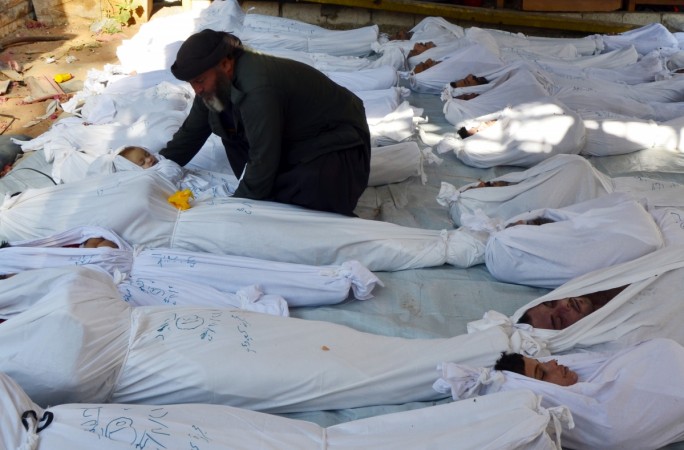 A helicopter on Monday is said to have dropped containers of toxic gas suspected to be chlorine on a town in Syria's Idlib province, according to a rescue service operating in rebel-held territory.
After the attack, members of the civil defence that operate exclusively in rebel-held areas helped transport at least 33 civilians, including 18 women and 10 children, to a local hospital with symptoms of burning, red eyes and suffocation.
"Just before midnight helicopters dropped five explosive barrels containing cylinders of chlorine and shards of metal on neighbourhoods in Saraqeb… two of the injured were in critical condition," Raed Saleh, head of the Syrian Civil Defence Group, was quoted as telling Al Jazeera.
Made up of a network of volunteer search and rescue workers, members of the civil defence group also known as the White Helmets posted a video on YouTube showing a number of men struggling to breathe and being given oxygen masks by rescue workers.
The Civil Defence said it was the second time Saraqeb had been hit by toxic gas. The group was aware of at least nine suspected chlorine gas incidents across Idlib province since the conflict began said the Civil Defence spokesman.
Britain-based Syrian Observatory for Human Rights, known for tracking violence on all sides in the civil war, also said barrel bombs fell on Saraqeb late on Monday, wounding a large number of citizens.
The opposition Syrian National Coalition (SNC) accused President Bashar al Assad of being behind the attack.
The SNC said in a statement: "After shelling, besieging and killing civilians and perpetrating war crimes on them, the Assad regime has resorted once again, and in breach of UN resolutions 2118 and 2235, to using chemical substances and toxic gasses.
"The daily reality confirms that all the international agreements and previous security council decisions, be they about chemical weapons or otherwise, are meaningless for the Assad regime," added the statement.
Chemical weapons used before
Repeated accusations in the past have claimed the Syrian government has used chemical weapons against civilians in rebel-held areas.
According to a report published by the Syrian American Medical Society (SAMS) in March, there have more than 160 chemical attacks that have killed 1,491 people in Syria and injured around 14,581, since the conflict began in 2011.
Apart from the 161 documented chemical attacks, another 133 chemical attacks not verified by SAMS have reportedly occurred.
Both government and opposition forces have denied using chemical weapons since the beginning of the Syrian war. While Western powers pin responsibility for chlorine and other chemical attacks on the government, Russia and the Assad government have accused rebels of using poison gas.
U.N. investigators confirmed that sarin gas was used in Eastern Ghouta in 2013. The United States had accused Damascus of that attack, in which 1,429 people, including at least 426 children, were killed. Damascus denied responsibility and blamed the rebels.
The United Nations and the Syrian government claimed to have completed the process of destroying the state's declared stockpile of chemical weapons in January 2016.
Sulphur mustard, commonly known as mustard gas, was also used during the conflict, according to the Organisation for the Prohibition of Chemical Weapons.