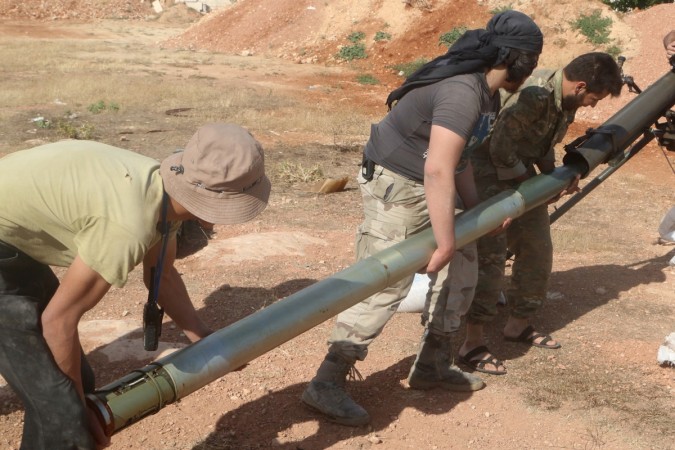 In an attempt to oust the Islamic State group or ISIS, the Syrian Air Force attacked a large base of the terrorist outfit in eastern Syria, destroying their transport and military equipment. ISIS camps along the highway to Raqqa were also targeted, state news agency SANA reported on Monday.
The Air Force also targeted ISIS establishments 70 km from Palmyra and neighbouring areas, killing people and destroying equipment. Apart from airstrikes, the Syrian forces attacked Jebel-Sarda heights near a military aerodrome in Deir ez-Zor, TASS reported.
Meanwhile, Turkish shelling killed 28 ISIS terrorists in Aleppo, where a ceasefire was being observed, JPost quoted CNN Turk as saying. Terrorist attacks in Aleppo also killed at least five civilians and injured 21 people on Monday. Residential neighbourhood are being targeted by terrorists in Syria's largest city of Aleppo, SANA reported.
Terrorists also targeted Homs, even as Syrian and Russian air defence teams took an aggressive stance on routing out ISIS from the city.
Meanwhile, to activate the cessation of hostilities agreement in Syria, the Russian Foreign Ministry Sergey Lavrov called on U.S. State Secretary John Kerry, a statement from the Russian Foreign Ministry said on Sunday.
"Lavrov agreed with US counterpart John Kerry , during a telephone call, to activate work in order to implement decisions of Syria international group and UN Security council resolutions No. 2254 and 2268," the Russian Foreign Ministry said in a statement, according to SANA news agency. The "discussions dealt with Russian proposals regarding carrying out joint operations against terrorist organisations and armed groups that didn't join the cessation of hostilities agreement," it added.