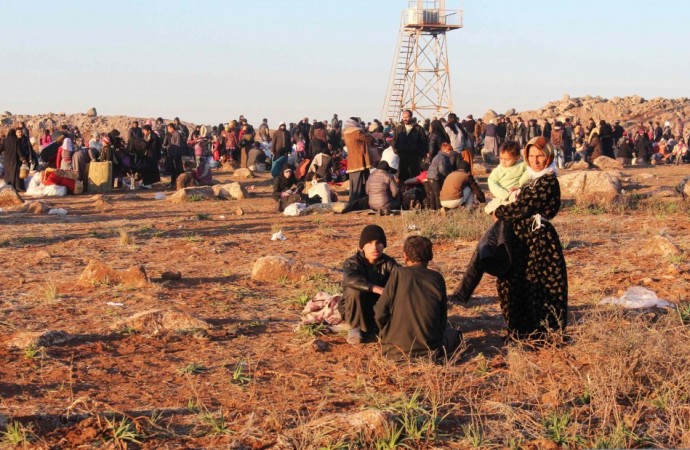 Despite the reported fallout between radical rebels, who belong to the Islamic State of Iraq and Syria (ISIS) and Al-Qaeda affiliated forces, the groups may now be fighting together against the advancing Syrian government forces.
Besides, in the areas around the Yarmouk camp, the ISIS and Jabhat al-Nusra may be coordinating together at the strategic region along the Lebanese border, known as the Qalamoun.
Al-Qaeda affiliated rebels in Syria have taken control of the Yarmouk camp, which has one of the largest number of Syrian refugees fleeing the war. Nusra, is reportedly in control of the area but there may be a handful of ISIS militants as well, helping the rebels to maintain control of the area.
A senior journalist specializing on the Middle East tweeted that ISIS and Nusra may be collaborating in Yarmouk. "In many parts of Syria, despite the talk of Nusra-ISIS fight, the intra-al-Qaeda battle, the two seem to be in collaboration. Contacts say that the rebel fighters in Yarmouk (Syria) are mainly Nusra, with only a handful of ISIS. Although this is impossible to verify," Vijay Prashad(@vijayprashad) stated.
Mark Seibel, another Middle East correspondent, in a report notes that ISIS and Nusra have been forced to coordinate together to resist the Syrian government, trying to retake Qalamoun, including the key rebel-held city of Yabroud.
The Syrian pro-Assad forces have been unable to make any real progress in the area till now. Seibel, speaking to a Syrian activist who uses the nom de guerre- Abu Omar al Homsi, notes that forces have been unable to take Yabroud mainly as there is no unrest between rebel groups. There is a command center operated by the Nusra Front, while others are equally represented, including ISIS.