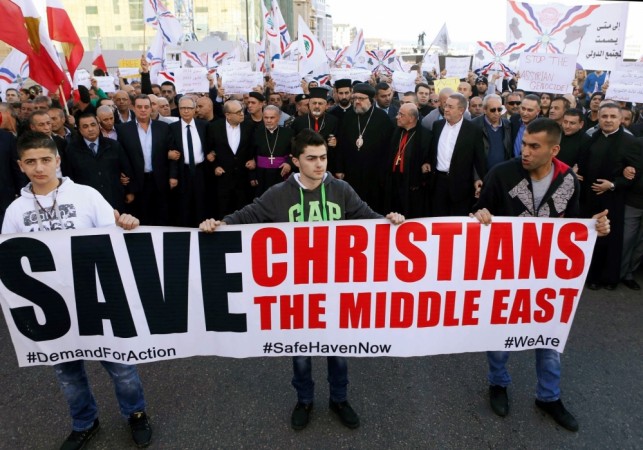 The Islamic State terrorists have released a new video showing the brutal execution of three Assyrian Christians and demanded a $14 million ransom for the release of the remaining 280 Syrians held hostage.
In the execution video, the three victims identify themselves as Dr. 'Abdel-Maseeh Aniyah of Tal Jazirah (Al-Hasakah), Ashur Rustam Abraham of Tal Jazirah, and Bassam Issa Michael from Tal Shamiram (Al-Jazirah).
An Isis fighter then steps in, and says that the church is responsible for the death of these men as it failed to protect them.
Three Isis fighters then execute the three men by shooting them dead. An Isis fighter later appears before the camera and reiterates the group's demand that to free the remaining hostages, $14 million should be paid to the group at the earliest.
In February, Isis fighters attacked 35 villages of the Al Hasakah province in northern Syria and took hundreds of Christians, including women and children, as hostages.
As per Syrian sources, only 23 hostages have been released by Isis till now, while the remaining Christians are still being held as hostages.
A Demand for Action (ADFA), a non-profit organisation that works for the protection of Assyrians and other minorities in Iraq and Syria, in a press statement condemned the "latest act of barbarism" against Christians and pleaded for help.
"We plea and beg of the international community to intervene immediately. We have been driven out of our ancestral lands. We have been killed and crucified. The international community must act now to save lives of others kidnapped," Diana Yaqco, a spokesperson for ADFA said in the statement.
US-based Assyrian activist, Nahren Anweya, told IBTimes India that the executions were carried out at least two weeks ago and during this time, several, including young children, have been executed by Isis.
"Despite the negotiations, Isis has been relentless in its persecution of Christians in Syria," Anweya added.
Anweya also requested the international community to immediately launch "special operations" in Isis areas to free the hostages at the earliest.
"It is extremely critical that special operations heads in immediately and frees these indigenous Christian people before they're all executed," she said.