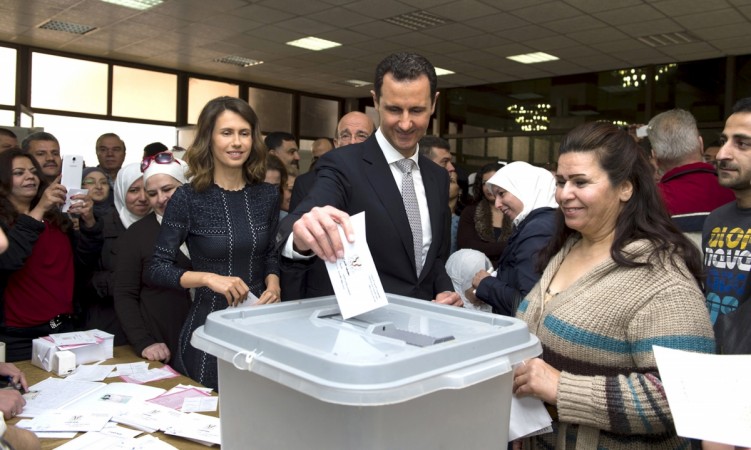 Embattled Syrian President Bashar al-Assad cast his vote in the parliamentary elections held Wednesday in Syria's government-controlled regions, even as the opposition called for a boycott of the polls. Syrians will elect 250 members to the parliament, though millions of Syrians have fled the country and scores live in areas controlled by terrorist outfits such as the Islamic State group and the al Qaeda-affiliated Nusra Front.
Syrians headed to 7,300 polling centres even as the country continues to reel from a five-year-long civil war that has left over 250,000 people dead and displaced millions of others. The Syrian president and his wife Asma voted at the al-Assad Library in Damascus, according to the SANA news agency.
Western leaders have, however, objected to the elections, claiming it would undermine the Geneva peace talks that began in January, according to the Associated Press. Western nations have repeatedly called for Assad to step down for a political resolution to the Syrian war, but he has found backing from Russia and Iran.
The British government has also accused the Syrian government of stepping out of line with regard to the U.N. Security Council resolution, agreed to in December, which called for elections in Syria in an 18-month transitional process. Britain was quoted by AP as saying the election showed "how divorced it [the Syrian regime] is from reality."
Russia, however, expressed support for the Syrian parliamentary elections, claiming it would "prevent a legal vacuum in the country."
"There is the understanding that the intra-Syrian talks should result in a new constitution on the basis of which new early elections will be held," Russian Foreign Minister Sergey Lavrov was quoted by TASS as saying Wednesday. "But until that happens, a legal vacuum and a vacuum in the sphere of Syria's executive power branch should be prevented. The elections that are held today should play this role."
The elections take place as the Syrian army comes fresh from pushing out ISIS from the anciet city of Palmyra last month. However, the province of Raqqa continues to be held by ISIS, while Idlib is held by the Nusra Front.