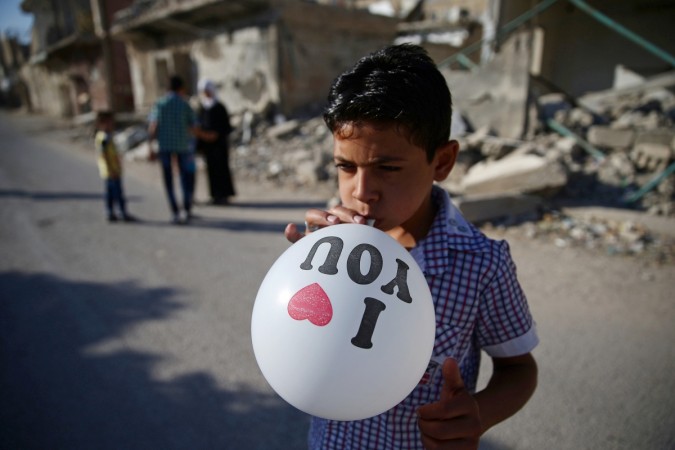 Photos of children in Syria holding up drawings of Pokemons with heart-rending messages have flooded social media.
The campaign is attempting to direct attention of those hooked to the augmented reality game Pokemon Go to the plight of little children living in war-battered areas.
Accompanying the hand-drawn Pokemons, are messages like "Save me! I am in Syria." The images are accompanied with #PrayforSyria, which started trending after airstrikes by the U.S.-led coalition aiming for ISIS-held areas killed dozens of civilians.
The Revolutionary Forces of Syria Media Office reports, an online news service, shared the images on Twitter. However, it is not known who created the campaign.
The children have been pictured near cities of Hama and Idlib, both being held by forces opposed to Syrian President Bashar al Assad.
One image shows a crying Pikachu sitting to a boy in an abandoned and destroyed building. The location of the child has not been shared.
"I live in Kafr Nabl, the Aleppo countryside. Come catch me," said one child through his photo.
"I am a Pokémon at Idlib in Syria, would you please come and save me?" said another.
"I am in Kafrnabol in #Idlib countryside, come find me," added another child.
War, violence and displacement have become the norm for the children in the bombed-out country. More than 7.5 million children have been affected in the long drawn conflict.
The campaign is a call for help from the next generation of a country that has been living in fear for more than half a decade.
Another social media campaign that was spun around Syria and Pokemon Go also grabbed eyeballs. Graphic designer Saif Tahhan created images that say "Syria Go" instead of "Pokemon Go." Each image shows elucidates the devastation in the country and how every day lives have been affected.