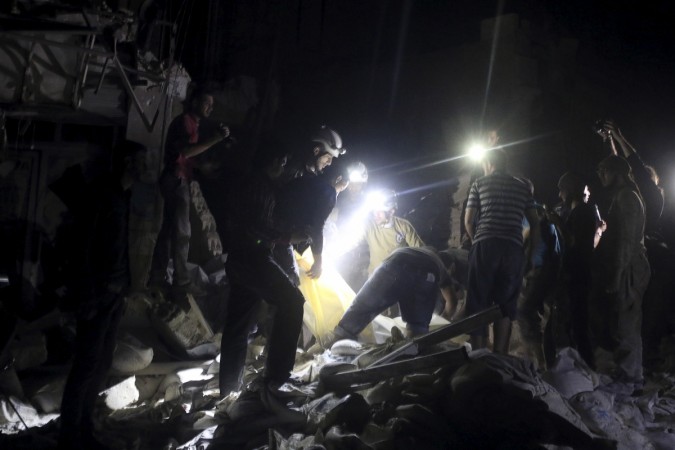 An attack in Syria's Aleppo killed 20 people, including 14 patients and three doctors working with the medical charity Médecins Sans Frontières (MSF), also called Doctors Without Borders, on Wednesday. The Bashar al-Assad-led government's attack destroyed the hospital supported by the medical charity, MSF said on Thursday.
The escalated fighting between the Assad-led government and opposition forces in Aleppo indicate a failure in the ceasefire agreement that was endorsed by Assad and countries like the United States and Russia. The United Nations warned on Thursday that the ceasefire was coming apart, according to Al Jazeera.
"In the last 48 hours, we have had an average of one Syrian killed every 25 minutes, one Syrian wounded every 13 minutes," the U.N. special envoy to Syria, Staffan de Mistura, was quoted as saying by Al Jazeera.
Mistura urged the U.S. and Russia to save the ceasefire that was "barely alive," according to Reuters.
The attack on the Al Quds hospital, which the MSF said was "well known locally," killed 14 patients and three doctors, including Dr Wasem Maaz — one of the last paediatricians in the region held by rebel groups.
"We condemn the destruction of the Al Quds hospital in #Aleppo, depriving people of essential healthcare. Hospitals are #notatarget, #Syria, [sic]" MSF tweeted on Thursday.
The hospital was targeted directly in an airstrike and the toll is expected to rise, MSF said, while reiterating that hospitals are not targets.
Robert Mardini, regional director for the Middle East at the International Committee of the Red Cross, also condemned the attack on the MSF hospital.
"Outraged: the attack on @ICRC-supported Quds hospital in #Aleppo is unacceptable. Doctors & patients killed. Hospital destroyed. #Syria. #Aleppo on the brink of humanitarian disaster. No neighbourhood of the city is spared. People live in constant fear of violent death. #Syria [sic]," he tweeted.
At least 100 civilians have been killed since the attacks began on Friday, Al Jazeera said. The Syrian Observatory for Human Rights said at least 107 civilians, including 20 children and 13 women, were killed between Friday and Wednesday. The government has been attacking east Aleppo and the countryside in a bid to take back the areas from the rebels.
"The shells are everywhere, there are dead people on the ground, and they're washing the blood from the streets," one resident in the government-controlled part of Aleppo, was quoted as saying by the Guardian on Tuesday.