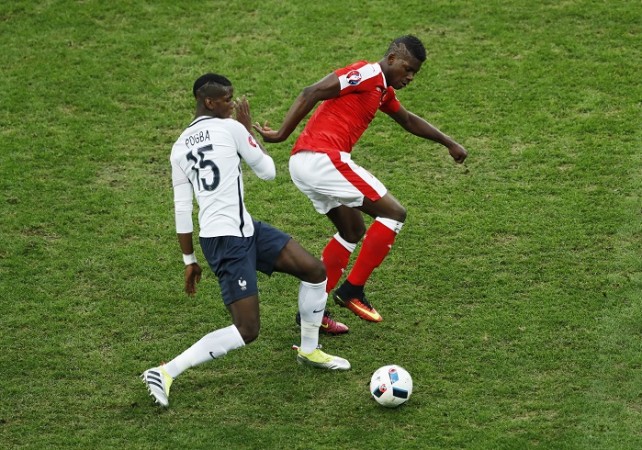 France played some decent football, but failed to emerge victorious against Switzerland on Sunday. Paul Pogba and Dimitri Payet came close to scoring a goal, but their wonderful shots hit the crossbar. Despite chances for both teams, the match ended in a goalless draw.
However, this result did not do any harm to either team. France qualified as Group A toppers while Switzerland finished second.
France made some changes for this match in their starting XI, as they had already booked their round of 16 spot. Antoine Griezmann and Pogba also started for France, who got off to a brilliant start in their final round robin match.
With France enjoying decent possession, Pogba tested the goalkeeper Yann Sommer twice in the first 13 minutes, and Swiss stood up to the task. The Juventus star was threatening to score as he once again, unleashed a wonderful 30-yards strike, only to be denied by the crossbar in the 17th minute.
For all the brilliance of Pogba, who was everywhere across the pitch, France could not score an early goal. However, Switzerland, who were egged on by their fans, gradually got into the game, but they lacked that cutting edge to threaten France's goal.
Surprisingly, Switzerland enjoyed better possession in the first half, and started the second on a bright note, attacking from the night flank. France's defence were upto it, with some brilliant defending at the back.
France's Griezmann got one of the best chance in the second half after a one-two with Andre-Pierre Gignac but Sommer made a crucial save in the 57th minute to deny the hosts a lead.
Switzerland looked good as they also moved Xherdan Shaqiri in no. 10 role, making him look dangerous as well.
With the hosts failing to score, manager Didier Deschamps decided to bring in key player Dimitri Payet, who has been brilliant in Euro 2016, for Kingsley Coman in the 63rd minute.
France were once again denied their first goal as Payet's shot hit the post after Sissoko's splendid ball from the right wing in the 75th minute. Payet's inclusion injected energy into his team mates as France began to play attacking football, with the West Ham player being a central figure after his appearance.
France might have threated to score in the first half, but their tempo did drop in the second 45 minutes, resulting in a goalless draw.
In the other group fixture, Albania managed to defeat Romania, who failed to win any match in the competition. Albania's Armando Sadiku, who scored the only goal of the match, created history as he became the first player from his country to score in any major tournament. They deserved the goal after playing some good football.
Despite chances for both teams to score in the second half, no goals were produced, but Albania must be pleased with the positive result.
This win might have given Albania hope of qualifying for the group stages, but results in other groups also need to go in their favour, which makes it complicated.