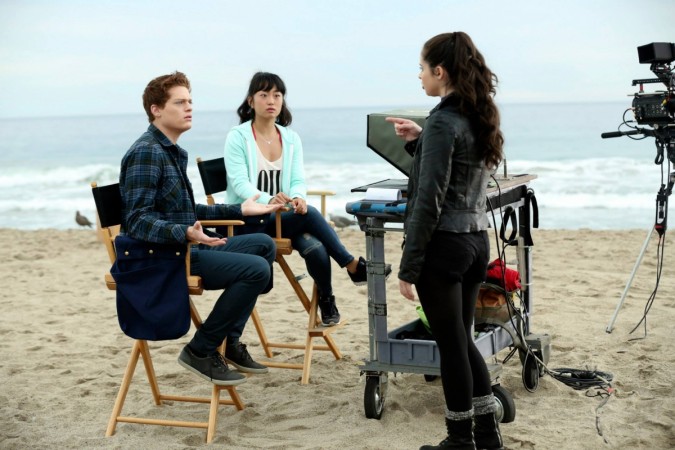 "Switched At Birth" will be airing, what is tagged as "the biggest finale yet" of season 4 on 10 March, Tuesday. The episode titled "There is My Heart" will tie together many loose ends, first and foremost of which, is whether Emmett and Bay will get back together or break up for good.
As a concluding statement in "The Player's Choice", which marked season 4 episode 9, Bay (Vanessa Marano) had announced to her father Jon (D. W. Moffett) that she is going to LA to win back Emmett (Sean Berdy). After Bay's ex-boyfriend Tank (Max Adler) had non-consensual sex with her, everyone among her family and friends tell her that she was raped. She, however, partially blames herself for sleeping with him when pitch drunk and confesses as much to Emmett, who does not know if he blames her or not.
After two episodes of "radio silence" from him, Bay decides that enough is enough and will be making a surprise visit Emmett's university. According to the trailer for "There is My Heart", Bay meets Emmett's friend Skye (Alice J. Lee ) and isn't quite pleased about it. Emmett still seems to feel that Bay cheated on him and she finally tells him, "If you want me to move out here, then you need to say it!" The trailer ends with Emmett walking towards Bay, hopefully to reconcile.
Meanwhile Daphne (Katie Leclerc) is seen confiding in his former friend with benefits Mingo (Adam Hagenbuch) about failing at something. She tell him, "I can't tell if I failed because of me, or my deafness".
The girls' mother Regina (Constance Marie) accidentally confesses to her emotionally unavailable boyfriend that she is in love with him and immediately apologises for the same. Although she is seen crying in her car, it remains to be seen how their relationship will pan out.
Toby (Lucas Grabeel) had asked his girlfriend Lily (Rachel Shenton) to move in with him in the previous episode, but she had shot him down by saying that she had romantic feelings for a colleague. The season 4 finale will also deal with their relationship and how Toby will deal with Lily's feelings for another man.
The season finale "There is My Heart" will map out many relationships, now that it is confirmed that Mary Beth (B.K. Cannon) broke up with Travis (Ryan Lane), whose new-found popularity as a star baseball player, she find too hard to handle.
Watch out for Season 4 Episode 10 of "Switched At Birth" on abc at 9.00 pm (EST) on Tuesday, 10 March.
Related
'Switched at Birth' Season 4 Episode 9 Spoilers: Will Emmett Forgive Bay on 'The Player's Choice'?
'The Originals' Mid-Season Premiere Spoilers: Hayley, Jackson Discuss their Sex Life; Freya Brings Mikael Back from Limbo
'iZombie' Series Premiere: Watch Liv Eat Brains and Solve Murder Mysteries [VIDEO]
'The Flash' Mid-Season Premiere: Is the Reverse Flash Running 'Out of Time'?