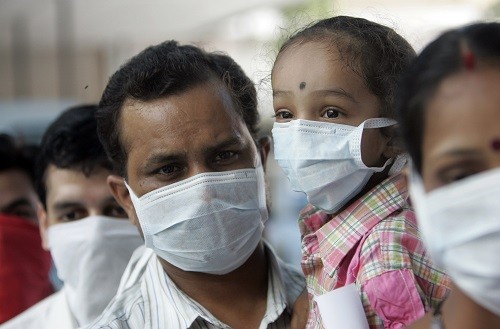 Swine flu scare gripped Delhi on Wednesday after two more people, who were undergoing treatment, succumbed to the viral infection.
The victims include a 42-year-old woman from Uttam Nagar in west Delhi, and a 39-year-old man from Faridabad, health officials told media.
The woman died Tuesday evening, while the man lost the battle Tuesday night.
"The 42-year-old woman had low blood count and breathing difficulty. She died while undergoing treatment at a private hospital on Tuesday evening but her death was reported on Wednesday," Dr Charan Singh, additional director in-charge of public health, Delhi government, told The Times of India.
The national capital received nine new cases of H1N1 on Wednesday, including the case of a female doctor from the Lady Hardinge hospital. The doctor is currently undergoing treatment at the Sir Ganga Ram hospital, PTI reported.
The female patients were identified to be residents of Madangir, Sangam Vihar, Greater Kailash I and Faridabad; aged 66, 33, 23 and 32 respectively, according to a DNA report.
The five men tested positive for swine flu were aged 48, 71, 57, 62 and 24 and hailed from JNU campus, Laxmi Nagar, Rajouri Garden, Masjid Moth of South Delhi and Chhattarpur, respectively.
Two patients have been admitted to Safdarjung Hospital, and one to a civil hospital under the government. The rest of the patients are being admitted to different private hospitals.
Delhi has recorded a total of 14 H1N1 cases this year, taking the total number of cases reported this season to 60, according to TOI. The state reported first swine flu death at end of December. The victim, a 51-year-old Ghaziabad-based woman died of swine flu while undergoing treatment at Sir Ganga Ram hospital.
Meanwhile, Telangana reported six fresh cases of swine flu on Monday. The viral infection has so far claimed three lives in the state.
How to Stay away from Swine Flu: Safety Precautions and Symptoms
The H1N1 virus has been making rounds around the globe since it first appeared on earth back in 2009.
The deadly viral infection was named swine flu as the Influenza A (H1NI) virus (A/H1N1pdm09), the main strain responsible for the disease had some close similarities with a virus found in pigs.
High fever, sore throat, body aches, vomiting, fatigue, running nose, headache, chills and diarrhoea are some symptoms of swine flu.
Following a hygienic environment is crucial to avoid infection as the infection is spread when a person gets exposed to contaminated droplets from a sick person.
Pregnant women, small children, old adults and people with severe health conditions like asthma, diabetes or other disorders are at higher risk of developing the infection than others.