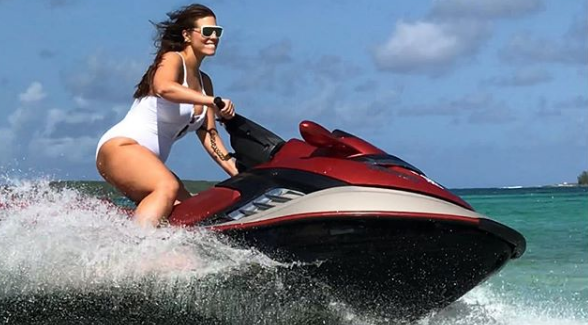 Ashley Graham is a proud plus size model and she leaves no opportunity to reinforce that fact. Starring in a fun music video for Swimsuits For All, Graham once again showed the world that she loves her body.
Oozing confidence, the 30-year-old recently was seen having a ball with models of all shapes and sizes on the beach. The peppy song, titled "Good as Hell" sung by Lizzo, watches the curvy divas hit the beach in different kinds of swimsuits and flaunting their voluminous bodies.
Also Read: Lingerie-clad Ashley Graham flaunts curvy figure in a sheer dress at Harper's Bazaar Awards [PHOTOS]
Grooving to the beat of the song, the models are seen enjoying the sand and water with Graham even jet skiing on the beach of Bahamas shaking her booty to the beats.
Graham is seen sporting two swimsuits in the video. Most part of the clip watches her don a white pair of beachwear that Graham once teased a few weeks ago. Letting loose her locks, she lip-syncs to the lyrics while flashing her brilliant smile for the camera.
In other parts, Graham is seen in a sensual black outfit. Jumping into the waters, Graham clearly had a fun time shooting the video.
The gorgeous diva is accompanied by models Elaine Irwin, Rachel Peru, Stefania Ferrario and Lori Harvey among many others.
The reason Graham looks fearless and in complete control while shooting on the Jet Ski is because the diva spent most of her childhood jet skiing on a lake, reports Cosmopolitan.
Ashley Graham reminisced, "I grew up jet skiing on the lake so it was fun to show off my skills, and Lizzo brought such amazing energy to the shoot."
The video has received a positive response from viewers. "Love love love this!!!!!!! You girls are so amazing! Thanks for helping so many women to rock the beach in any size!!!! Big hug!" a viewer commented on the video. "Omg! I loooooooooove it. U girls all look amazing," added another.
Watch the video here: