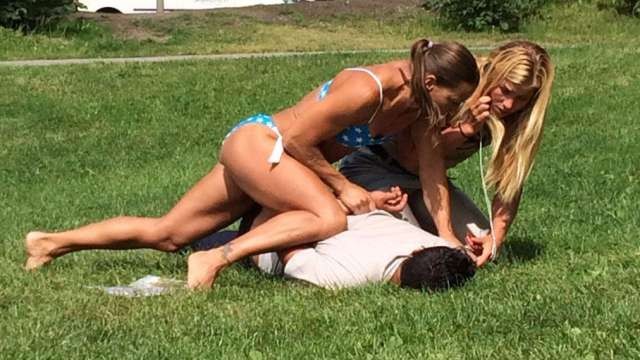 An off-duty Swedish police officer made headlines for making an arrest in a rather unconventional way – dressed in a bikini. The incident occurred while cop Mikaela Kellner was sunbathing at a Stockholm park with her friends, one of whom also happened to be a police officer.
According to Kellner, a man approached them trying to sell them magazines. The group wasn't interested and as he walked away, one of her friends noticed that her mobile phone was missing.
This is when Kellner's instinct kicked into gear and she ran behind the man with her police officer friend in tow. Together, they pinned him to the ground.
"He tried to run away, so I had to do something to keep him down until police arrived," she told BuzzFeed News. It was at this moment that one of her friends took the picture that has gone viral on social media ever since Kellner uploaded it to her Instagram account.
I never thought it should be this big [of a deal] when I put the picture on my Instagram and Facebook," Kellner said.
The incident has been creating waves ever since it was picked up by Swedish tabloid Aftonbladet, making Kellner something of a local celebrity.
Kellner said that her primary intention behind sharing the picture was to alert other people in the park to the dangers of petty theft, like the kind she encountered. "A lot of people get robbed like this," she said, adding that the thief used a technique similar to a magic trick to steal the phone. He put a magazine on their blanket covering the mobile phone he wanted to steal and covertly picked them both up as he left.
Kellner said that she has arrested many others in her 11 years of serving as a cop.
But I have never done this just in a bikini before. That is quite unusual."
She was, however, dismissive of the hype around her act, saying, "It's my job, this is what I do. It was an instinct."