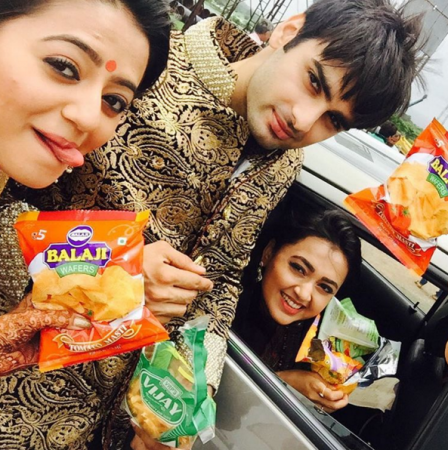 Hit TV show "Swaragini" is on a rollercoaster ride of sorts. The show's central characters — Swara (Helly Shah), Ragini (Tejaswi Prakash) and Sanskaar (Varun Kapoor) — are eternally in danger, and they have more trouble coming their way.
Friday's episode saw Swara being acquitted of all charges and Kavita (Nikita Sharma) being arrested. Interestingly, the upcoming track will see Lakshya (Namish Taneja) marrying his ex-girlfriend Kavya (Roop Durgapal), consequently breaking the promise he made to Ragini.
While Lakshya has no qualms about crushing someone's dreams, Ragini's father Shekhar (Sachin Tyagi) won't take it well and will later slap him in the presence of family members and guests. The drama will then escalate a few levels with Lakshya slapping him back.
Kavita will not let it slide easy and now has a major humiliation to avenge. Lakshya will stop at nothing when it comes to hurting Ragini, and Kavya will happily assist him in doing so. Now the question is, will Kavita, Kavya and Lakshya join hands to conspire against Swara, Sanskaar and Ragini? Only time will tell.
Meanwhile, Roop is thrilled to join the cast of "Swaragini". Talking to The Times of India she said she was looking forward to doing something she already does off-screen.
"I am lucky that I get to play a singer and an actress. I have been giving live performances since childhood, and continue to do so professionally. I hope to get an opportunity to sing in the show. I didn't want to play a mother so early in my career. This character is glamorous and has shades of grey," she said.