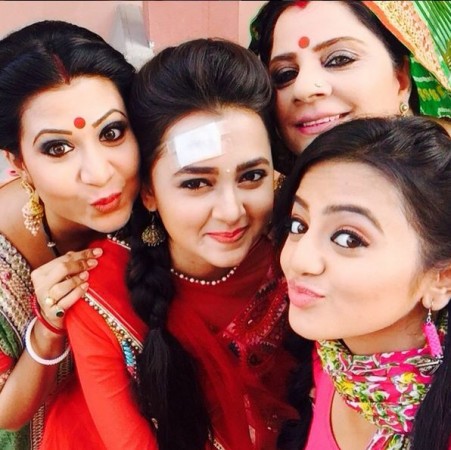 The makers of "Swaragini" have finally united lovebirds Swara (Helly Shah) and Sanskaar (Varun Kapoor), much to the fans' delight.
In the recent episodes, Swara who left the Maheshwari house was seen re-entering the house. Being a dutiful Bahu, Swara returned to save the family from the humiliation after evil Kavya (Roop Durgapal) filed a police complaint against all the family members on charges of domestic violence.
Annapurna and Sujata, who hate Kavya, were happy with Swara's return to the Maheshwari family. Swara and Sanskaar have now vowed to mend the broken relations in the family.
According to a Bollywood Life report, viewers will soon witness a battle between the two daughter-in-laws – Swara and Kavya.
In the upcoming episodes, Swara will prepare sweets for the family, which evil Kavya will drop on the floor. However, Uttara (Khyati Mangla) will record the entire incident and show it to Swara. This will lead to a face off between Swara and Kavya.
Further, the report stated that the makers of the show will treat its fans to a romantic moment between Swara and Sanskaar. Also, Swara will get a makeover in the upcoming episodes and will also find out Kavya's motive behind entering the Maheswari household. With this, it appears like "Swaragini" is all set for some exciting sequences.