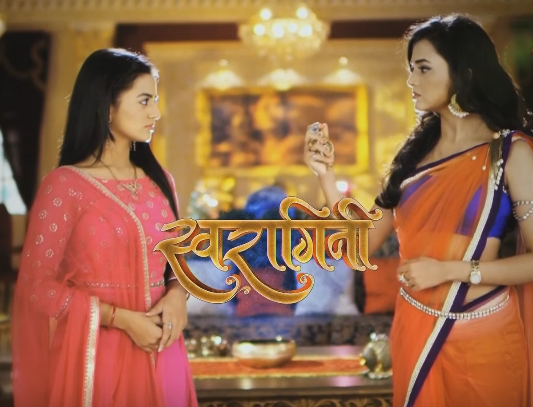 The ghost drama on "Swaragini" is set to take an interesting turn on Monday with Swara (Helly Shah) being strangled with a thread used to fly kites.
This could either kill Swara or help Sanskaar (Varun Kapoor) narrow down his list of suspects.
Both Sanskaar and Swara have had their share of doubts about who could be wreaking such havoc in their lives. While the former has his finger pointed at ex-lover Kavita, the latter writes his suspicions off saying it couldn't be her.
Talking about the current track to the media, Varun said it could be anyone, adding that all the suspense will be dispelled soon.
Meanwhile, Helly narrated an upcoming sequence which is pivotal to what's going on currently. Sanskaar will be seen tying a necklace on Swara. Later, that very piece of ornament chokes her, but the family helps her get rid of it. The incident then helps them establish the fact that there's someone who is trying their best to separate Swara and Sanskaar.
In other news, this isn't the first time the makers of a show have introduced a ghost track. "Yeh Hai Mohabbatein" stretched the supernatural drama to such an extent that the viewers threatened (on social media) to boycott the show.
The purpose of introducing such a sequence was necessary as Ishita (Divyanka Tripathi) and Shagun (Anita Hassanandani) had to find the conspirator who had joined hands with Ashok (Sangram Singh) to kill Raman (Karan Patel).
Related
Swaragini spoiler: Attack on Swara-Sanskar; Lakshay to trick Ragini to sign property papers
Swaragini actor Namish Taneja aka Lakshya celebrates Lohri festival with co-actors [PHOTOS]
Swaragini: Swara and Sanskaar's ex-girlfriend Kavita are best friends off-screen [VIDEO]