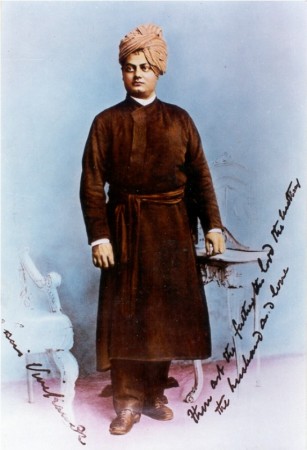 Indian Hindu monk Swami Vivekananda's 153rd birth anniversary falls on Tuesday, 12 January. He was born to Vishwanath Datta and Bhuvaneshwari Devi in an aristocratic Bengali family of Calcutta in 1863 as Narendranath Dutta during the Makar Sankranti festival.
Apart from excelling in music, gymnastics and studies, the inspiring personality also had a vast knowledge in many subjects like western philosophy and history. After knowing about the existence of God, he became a disciple of Sri Ramakrishna, and began his monastic life with 15 young people following the death of their master.
After travelling in the country, Swami Vivekananda realised that neglect was the reason behind poverty and downfall in India. He later founded the Ramakrishna Mission with an aim "to spread the idea of the potential divinity of every being and how to manifest it through every action and thought."
Swami Vivekananda is still remembered as a great inspiration to youth all over the world and his birth anniversary has been celebrated as National Youth Day in India since 1985. The day is observed by organising many programmes and competitions for youth in schools and colleges.
Swamiji is also known all over the world for his inspiring speech at the Parliament of the World's Religions at Chicago in 1893.
One of Swami Vivekananda's messages to the youth was: "I have faith in my country, and especially in the youth of my country. My hope is in you. With an immense amount of feeling and enthusiasm in the blood, will come heroes who will march from one corner of the earth to the other, preaching and teaching the eternal spiritual truths of our forefathers."
Check out some inspiring quotes of Swami Vivekananda below:
Truth can be stated in a thousand different ways, yet each one can be true.
We are what our thoughts have made us; so take care about what you think. Words are secondary. Thoughts live; they travel far.
You cannot believe in God until you believe in yourself.
Arise,awake and donot stop until the goal is reached.
The world is the great gymnasium where we come to make ourselves strong.
Where can we go to find God if we cannot see Him in our own hearts and in every living being.
God is to be worshipped as the one beloved, dearer than everything in this and next life.
That man has reached immortality who is disturbed by nothing material.
If money help a man to do good to others, it is of some value; but if not, it is simply a mass of evil, and the sooner it is got rid of, the better.
The will is not free - it is a phenomenon bound by cause and effect - but there is something behind the will which is free.