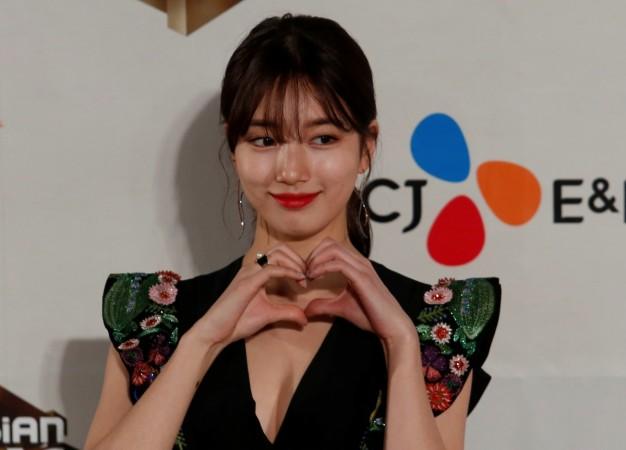 While You Were Sleeping star Suzy Bae seems to have found a new love interest after her breakup with Lee Min Ho. It is her SBS fantasy thriller co-star Lee Jong Suk.
The popular South Korean singer and actress, who portrayed a news reporter named Nam Hong Joo in the mini-series, has recently admitted she actually fell in love with her co-star while filming the show.
When popular television host Shin Dong Yup asked the former miss A member if she actually fell in love with her co-star, she admitted it. "Because Jong Suk oppa is so good looking, I could really immerse myself in the role. Jong Suk oppa might just be a chemistry fairy," she said.
Jong Suk, too, admitted he developed feelings for his co-star "from time to time" during the production. "Suzy is the most beautiful woman in Korea. I fell in love from time to time," he said.
Also read While You Were Sleeping star Suzy Bae responds to criticisms about her acting
Fans of Jong Suk and Suzy have already started shipping them. "Omo! I ship Lee Jong Suk and Suzy Bae if it's not Park Shin Hye its okay I really like them both. JongZy Couple [sic]," an admirer of the duo wrote.
"I think LeeJongSuk and Suzy Bae look similar especially their eyes, they look compatible [sic]," stated another fan stated.
"The best couple someday! Their chemistry is just daebak! #JongZyFTW And for Lee Min Ho, it's okay babe Shin Hye is there! Ayeeeee [sic]," a netizen wrote.
However, some social media users were not happy to hear the dating rumours about Jong Suk and Suzy.
"It will be perfect if Lee Jong Suk and Han Hyo Joo will be in a relationship. Also it would be better if Lee Min Ho and Bae Suzy still in a relationship [sic]," a Facebook user stated.
"what? i dont like suzy for jongsuk, i like han hyo joo for jongsuk, because if you saw the picture of two of them, very sweet like a candy, its like a real couple, but suzy i dont like, because lee min ho and suzy is now break up, and then new boyfriend jongsuk, no way [sic]," an admirer of Jong Suk wrote.
Meanwhile, a section of netizens believes it is a trend in the television industry to compliment co-stars immediately after working together in a drama.
"I think it's a trend for actors to say that because it will get people to watch the drama e.g strong woman or weight lifting fairy [sic]," a Facebook user wrote.
"He totally fell in love with every girl he in a drama with. I remember he said the something abt Han Hyojoo don't hope too much. I'm not being salty. I'd love to see him in a relationship. But this is a marketing strategy for the drama [sic]," another netizen said.