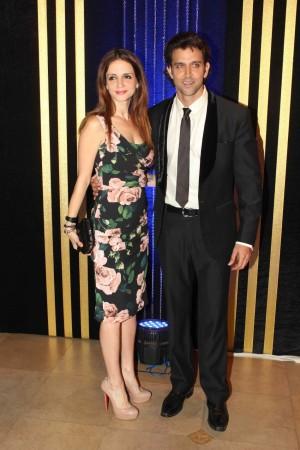 It seems Hrithik Roshan and wife Sussanne's troubled relationship rumours are never going to end. After the divorce speculation, now there are reports claiming Sussanne is not happy with her in-laws.
The rumours started when Sussanne moved to her parents' residence and made only a brief appearance during father-in-law Rakesh Roshan's birthday party. She attended the party with her mother, brother and sister but left soon. Also, Sussanne was not spotted in this year's Ganesh Visarjan Pooja at Roshans' residence.
However, Hrithik and Sussanne's sister Farah had earlier denied reports that the couple is heading towards divorce. [Read the report here]
Also, sources close to the family clarified that Sussanne's father has not been keeping well and she shifted to her parents' residence in order to take care of him.
But now reports say that it's not Hrithik but his parents who prompted Sussanne to leave the Roshans' home.
"She is "fed up" and this time, it has nothing to do with an affair. Sussanne is unhappy with her in-laws," Deccan Chronicle quoted source as saying.
"Apparently, she was getting tired of their meddlesome ways and felt her hubby was not supporting her enough."
The news of the couple ending their 13-year-old marriage has been constantly doing the rounds. But there were reports that the divorce speculation was just a publicity stunt for Hrithik's new film.
In 2009, Hrithik and Barbara Mori's "Kites" set tongues wagging that the couple will split, following Hrithik's alleged affair with the film's co-star. But later the couple dismissed all rumours.
Hrithik and Sussanne have been married for around 13 years. The couple has two sons - Hrehaan, 7, and Hridhaan, 5.