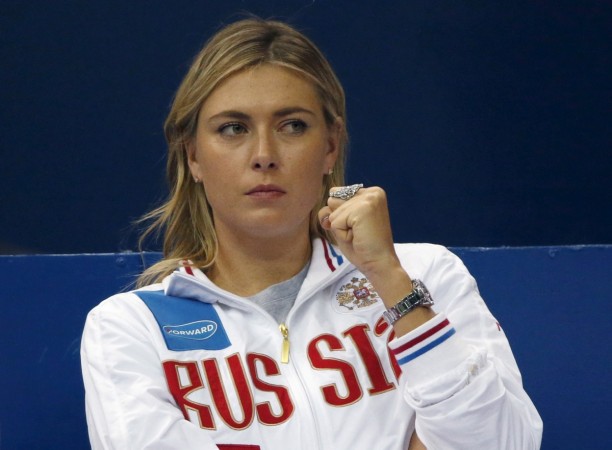 Russian tennis star Maria Sharapova, provisionally suspended by the International Tennis Federation (ITF), has been named in the squad for the Russia team ahead of the Rio Olympics 2016. Sharapova, at the moment, is barred from participating in any event, including the ongoing French Open 2016.
The 29-year-old is one of the four female players, including Svetlana Kuznetsova, Anastasia Pavlyuchenkova, and Darya Kasatkina, provisionally named by the Russian Tennis Federation (RTF) for the Olympics team, reported the Russian News Agency.
The players will be competing in the women's singles event.
Sharapova had faced an anti-doping panel in London last week and she was reported to be facing a possible four-year ban from the game. However, the decision on the extent of her punishment is yet to come. After testing positive for meldonium, a banned substance according to WADA (World Anti-Doping Agency), the pin-up girl of world tennis was handed a provisional ban from the game by the ITF from March 12.
The two-time French Open champion had however mentioned that she was determined to return to tennis, after admitting to using meldonium.
She admitted to using the drug under the name of mildronate, saying she was completely unaware that it was a part of WADA's list of banned substances. Meldonium was listed as a banned substance by WADA from January 1, 2016.
The challenge for Sharapova is to see the ban overturned, the verdict of which is expected to come next month. If the ban is lifted right ahead of Wimbledon 2016, we could also see her taking part in the Grand Slam, scheduled to start on June 27, before moving over to the Rio Olympics.