Former Miss Universe Sushmita Sen was left red-faced at a recent press conference when the paparazzi captured her embarrassing wardrobe malfunction.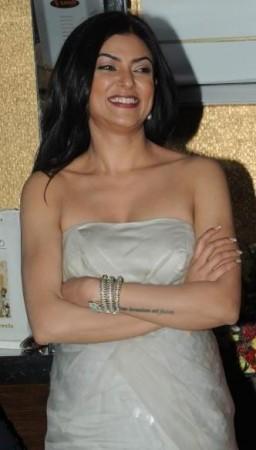 Apparently, the leggy was addressing the media at an event organized to celebrate Miss Asia Pacific 2012 Himangini Singh Yadu's victory at the international beauty pageant, when the wardrobe malfunction happened. Her underpants gave a sneak peak from her ultra short tube dress as she sat with her legs uncrossed.
Though, the actress immediately criss-crossed her long legs to cover up her modesty but the shutterbugs managed to capture her opps moment.
Well, Sushmita Sen is not the only actress who has faced such embarrassment. Several prominent B-town actress have faced such incidents - the most-touted one being Yana Gupta's wardrobe malfunction.
Sen, who is associated with the "I AM SHE" organization that sends applicants for the beauty contests from the country, was extremely proud of Himangini for winning the title.
The 23-year-old Indore girl, Yadu, brought back the prestigious crown to India after 12 years, beating 19 other contestants in the international beauty pageant held in South Korea on June 16.
"It's a proud moment for India, Himangini Singh has made us all very proud by winning this title because we have been waiting for a win on the international stage for a long time now," Sen said at the conference.
The ecstatic actress, who herself went to the Mumbai airport to receive the winner, told reporters, "She has given us the biggest gift. Her life starts now because once again an Indian beauty has been recognized on the world map. That's one of the greatest achievements."
Yadu was sent to compete in Miss Asia Pacific contest after getting selected by Sen's "I AM SHE" foundation.
"This is a dream come true! All the hard work, time and effort that my mentors have put in with me has paid off," Himangini said in a statement.
"I am extremely thankful to the entire I AM She team and Sushmita Sen... I couldn't have done it without them! I am extremely thrilled at making them and India proud," she said.