Leader of Opposition Sushma Swaraj locked horns with Jammu and Kashmir Chief Minister Omar Abdullah over curfew in Kishtwar district that was imposed due to clashes between two communities in the state.
The clashes, which were first reported in the Kuleed area, spread across the district on Friday and at least 15 people were injured, according to Press Trust of India.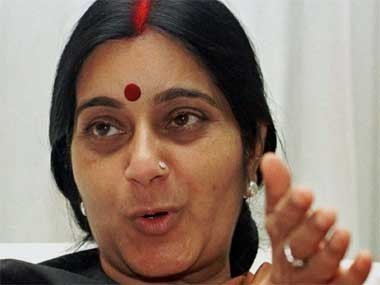 Police told PTI that the two communities set fire to 10 shops in the area and indulged in stone-pelting and arson. A truck and a hotel belonging to a kin of MLC were burnt down in the arson.
Curfew was imposed in the district and the police along with Central Reserve Police Force (CRPF) personnel were deployed. They used batons and teargas on the mob besides firing in the air to disperse the crowd in different parts of the district.
On learning of the incident through her followers on Twitter who said 'since morning hindus in kishtwar district are being mutilated and their houses are gutted..plz help', Sushma Swaraj asked Omar Abdullah to attend to the crisis brewing in the district. What followed was 'war of words' between the two leaders on the micro-blogging site.
Swaraj: I have checked up from Kishtwar. Many injured. Houses and shops burnt. Pl do something immediately
Abdullah: Injuries & damage has taken place on both sides. Situation is being rapidly brought under control. Adequate forces sent. You can express your concern by ensuring trouble makers don't spread this problem to other areas for political benefit. On our part we are doing the same but everyone's cooperation will obviously help. I'm basing my request on credible reports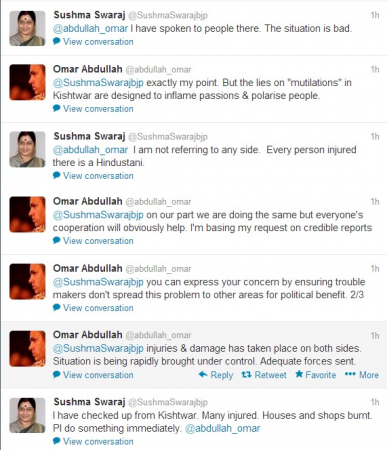 Swaraj: I am not referring to any side. Every person injured there is a Hindustani.
Abdullah: Exactly my point. But the lies on "mutilations" in Kishtwar are designed to inflame passions & polarise people.
Swaraj: I have spoken to people there. The situation is bad.
Abdullah: Ma'am for a realistic assessment I request you speak to Northern Army Commander or the DGP (who is in Kishtwar).
Swaraj: No. I will not bypass the Chief Minister of J&K. Law and Order is the state subject.
It was not until Bharatiya Janata Party (BJP) President Rajnath Singh intervened with his tweet that the matter was resolved. He posted, "Had a telephonic conversation with the PM Dr. Manmohan Singh regarding outbreak of violent clashes in Kishtwar district of Jammu region. The PM assured me that the situation would be quickly brought under control as the army has been called out in Kishtwar."
Swaraj later posted that the J&K Chief Minister called her and told her that more forces were being deployed in Kishtwar to deal with the clashes. Both the leaders, however, deleted their tweets as the matter was resolved between them.
On Friday, after the Eid prayers in the morning, a group of 500 people rose anti-national slogans. Another section from Kuleed area attacked the group, which led to the tensions.