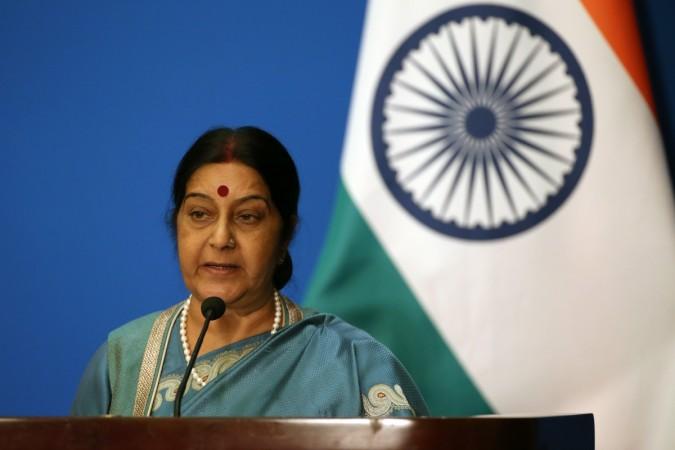 Taking an indirect jibe at China's Belt and Road Initiative, External Affairs Minister Sushma Swaraj said that projects of such scale are used as methods of dominance.
The foreign minister was addressing the third edition of the Indian Ocean conference in Hanoi on Monday. She also said that India's approach on the development and connectivity projects and related maritime initiatives in the Indo-pacific region are based on mutual co-operation and inter-dependence rather than dominance.
Raising an indirect question at China's debt trap policy, Swaraj affirmed that "We support responsible and transparent debt financing matched by responsible lending practices. We understand that following universally recognized international norms, transparency, openness, financial responsibility, and promoting a sense of local ownership are essential for better and more sustainable development outcomes."
Swaraj also spoke about the measures taken by India in the Indo-pacific region, including Indian Ocean Region and ASEAN where it has maintained its relationship with the other countries based on mutual respect.
Swaraj referred to a slew of initiatives that India has undertaken in the IndoPacific region including Indian Ocean Region and ASEAN by taking countries on board from maritime security, sustainable development, disaster management and the development of Blue Economy.
Meanwhile, China has called India its "natural partner" in the Belt and Road Initiative (BRI) and has hoped for better relations between New Delhi and Islamabad within the Eurasian framework.
Referring to the historical economic relations between the countries Zhang Jun, China's assistant minister of foreign affairs said that "Historically, India was an important country on the ancient Silk Road and it is fair to say that India was a natural partner in the ancient (Silk Road) and (is one) in the Belt and Road Initiative."
China also cleared its stance on China Pakistan Economic Corridor (CPEC) and said that it is an economic initiative between two countries and it will not alter is neutral position on the Kashmir issue.