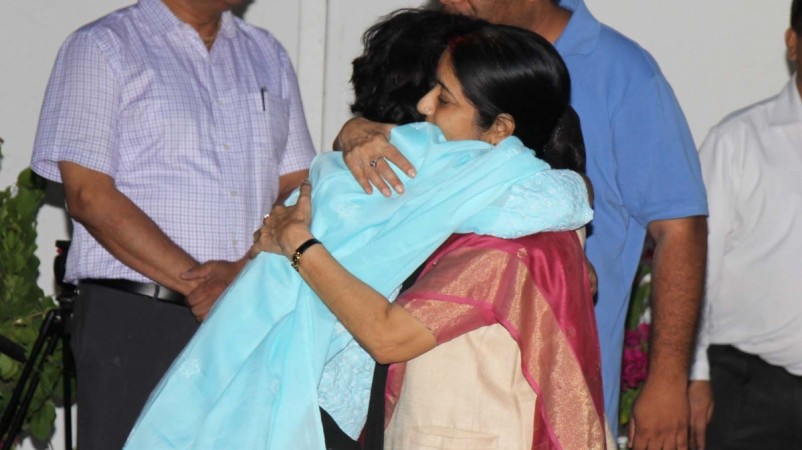 When Delhi-based blogger and baker Faizan Patel went on his honeymoon to Europe little did he know that his trip will be hampered when his wife's, Sana Fatima Khan, passport would be lost. However, what Union External Affairs Minister Sushma Swaraj did for the couple has become the talk of the town.
Patel tweeted to Swaraj a picture of himself with his wife's photograph plastered on the seat next to him while he was on the flight. He said, "This is how I am travelling with my wife as of now."
Swaraj was at the Parliament when Patel tweeted to her, but responded to his query immediately after stepping out. She told him to ask his wife Khan to contact her.
Patel and Khan thanked and praised the minister after she assured them that they'd get the passport the next day.
"Minister par excellence @SushmaSwarajBJP I am glad we have you. You're a beacon of hope. Regards, - Sana & Faizan," Patel tweeted on Tuesday.
Within an hour, Swaraj had tweeted:
My office has reached you already. You will get a duplicate Passport tomorrow. @faizanpatel https://t.co/FV6BisvqgP

— Sushma Swaraj (@SushmaSwaraj) August 8, 2016
Other Twitter users, however, criticised Patel for seeking help from the government despite being criticial of it. Patel later tweeted that he was praised the minister for her "amazing work with the MEA."
He also added on Tuesday morning that the passport was "almost issued" because of Swaraj and the only thing holding them back was the issue of the VFS visa, which would be sorted on Thursday.
Ask your wife to contact me. I will ensure that she is with you on the next seat. pic.twitter.com/sktnOMkg0a @faizanpatel

— Sushma Swaraj (@SushmaSwaraj) August 8, 2016
The minister has been approachable to citizens within and outside India and helped rescue many nationals stuck in difficult situations. Whether it was the Aga Khan Foundation employee Judith D'Souza who was kidnapped in Afghanistan or the hundreds of Indians stuck in Jeddah.