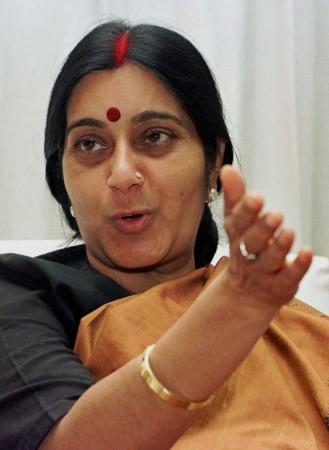 Sushma Swaraj, BJP's Leader of the Opposition in the Lok Sabha, pumped up Gujarat Chief Minister Narendra Modi's political aspirations on Sunday by saying that he is a perfect candidate for the prime minster post.
Speaking to reporters in Vadodara, Swaraj said, "Narendra Modi is competent for the post of prime minister, there are no two opinions about this," reported The Indian Express.
Her endorsement for Modi's candidature came as a surprise considering that she herself is seen as a front-runner in the prime mister campaign and had never heaped much praise on the Gujarat strongman before.
Besides Swaraj, BJP leader of the Opposition in the Rajya Sabha Jaitley Arun Jaitley also rooted support for Modi last week. "Many BJP leaders are going to address rallies. This is an indication that the entire party is standing behind Gujarat BJP and Narendrabhai. We are here to give our party a historic victory," Jaitley told Press Trust of India.
According to Hindustan Times, BJP sources said that "intricate party politics" may have prompted growing support for Modi. He and Jaitley are known to be close and Swaraj had often backed BJP veteran LK Advani.
Until now, six top BJP leaders - L K Advani, Murli Manohar Joshi, Sushma Swaraj, Arun Jaitley, Rajnath Singh and Narendra Modi - were identified as potential candidates for the PM post. Though Modi has been regarded as the "most popular leader" among them, NDA partner JD(U)has taken a stand against Modi's candidature in the prime ministerial race.
One the obstacles that stand in the way of Modi's competency for the top position is the 2002 Gujarat massacre which he was implicated in. In April, the Supreme Court gave him a clean chit, citing lack of evidence of his alleged involvement in the case.
Welcoming the court's decision, Swaraj had said, "I congratulate Modi for the support he has received. He has suffered a lot and has now overcome all his obstacles, his setbacks and cleared his agnipariksha," reported Rediff News.