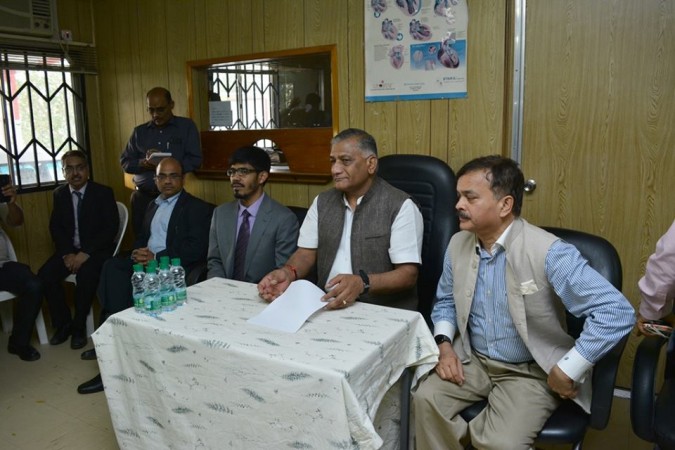 External Affairs Minister Sushma Swaraj on Tuesday said that the negotiations to secure the salaries of the thousands of retrenched workers in Saudi Arabia were deadlocked with Saudi authorities.
The minister has now appealed to the Indian diaspora to return to India by September 25, failing which the Government of India would not be able to meet their expenses on returning to India, boarding and lodging. Arrival into India before September 25 would be free, the minister said.
"My advice to all such Indian workers is that they should file their claims and return home by Sep. 25, 2016. We will bring them back free of charge. Those who do not return by Sep. 25 will have to make their own arrangements for boarding, lodging and return journey," Swaraj said in a series of tweets.
Swaraj had also made a similar appeal on Sunday as she asked Indian workers in Saudi to return without "waiting indefinitely" for their dues. "Indian workers in Saudi Arabia – please file your claims and return home. When [the] Saudi government settles with the companies which have been closed down, your dues will also be paid. Please appreciate that settlement of claims will take time. There is no point in waiting there indefinitely," Swaraj had said on twitter.
The issue was first highlighted on July 30, when Sushma Swaraj tweeted that 10,000 Indian nationals who had not been paid salaries for several months, were facing a "food crisis" in Saudi Arabia. The figure was also revised by the government to 3,172 'distressed' workers and 10,000 nationals who "required assistance."
Thousands of Indian workers have lost their jobs due to a slowdown in Saudi economy, triggered by low oil prices and cut in spending by the government. The three worst affected companies are Saudi Oger, Saudi Bin Laden and Saad group.
The Saudi government has agreed to allow transfer of Indian employees, who have lost their jobs, to any other company within Saudi Arabia. As per rules, foreign employees cannot change jobs without permission of the company where they were employed.
"The important thing to remember is, no third option is available to Indian workers belonging to these three companies," Vikas Swarup, external affairs spokesperson, said while asking the workers to opt either for repatriation or relocation to other companies.
Minister of State for External Affairs V K Singh has also made trips to Saudi Arabia after large number of Indian workers sought the Indian government's intervention in taking up their difficulties with the Saudi authorities.
Since then, two groups of workers were repatriated from Saudi Arabia, but the latest developments seem to suggest that the rest of the workers may not receive the dues owed to them, anytime soon.
In order to bypass the Saudi rules that disallows foreign employees the option to exit the country until they have NoC (No-Objection Certificate) from employers, the Indian government had urged the Saudi authorities to give the unemployed Indian workers exit visas.