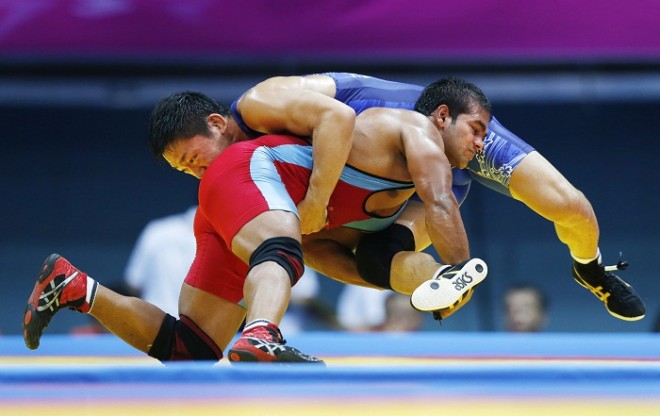 India's most celebrated wrestler, Sushil Kumar has done almost everything in his power, including, approaching Prime Minister Narendra Modi and the Delhi High Court, by asking for a trial against Narsingh Yadav for a spot in the 2016 Rio Olympics. However, in all probability, it is Narsingh, who will represent India in the Olympics as the Wrestling Federation of India are not keen to conduct a trial.
With the sports ministry and HC not too eager on interfering with the selection process, the doors for Sushil look more or less shut. The WFI has even picked Narsingh ahead of Sushil for the preparatory camp.
Such kind of selection fiasco is not new to Indian athletes ahead of the Olympics as tennis star, Leander Paes also underwent a similar situation. Mahesh Bhupathi and Rohan Bopanna refused to partner Paes in the London Olympics, and the veteran had to play alongside Vishnu Vardhan in the 2012 event.
Talking about the Sushil-Narsingh fiasco, Paes feels that the person, who can help India bring a medal from Rio should be selected.
"I don't know the whole Sushil story. But I truly believe the best person for the job to win a medal needs to go. If you look at who is the best person to win a medal for our country, that person should go. Before the event we can all talk about different things," Paes told The Times of India in an interview.
"Everyone says 'mere ko bhi jane ka'. But when you come back from the Olympics on that flight in Rio, what have you got in your hand, a bottle of water or a medal?"
Both the wrestlers have it in them to win a medal in Rio if they perform up to their mark in the Olympics, which starts on August 5. Narsingh is an experienced wrestler in the 74 kg category, and is a serious contender for a medal, after winning bronze in the last World Championships. Sushil, on the other hand, is a two-time Olympic medallist in 66 kg, so he knows all about winning medals in the grandest stage of all.
One does not want a situation like what transpired in 2012, where Indian tennis players, after courting such controversy, failed to win any medal in the quadrennial event.