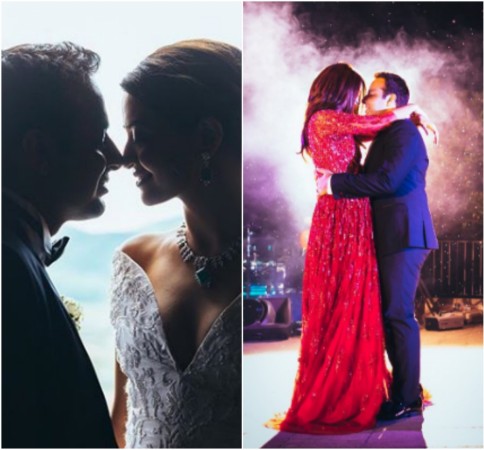 Surveen Chawla shared a beautiful picture with her husband Akshay Thakker announcing her wedding. She captioned the image as: "And just like that, right in the middle of an extra-ordinary life, love gave us a fairy tale... #Married #bliss #EternalLove #GiveUsYourLove&Blessings" [sic.]
And now, talking to a leading publication, Surveen confessed that she tied the knot on July 28, 2015, and said: "Yes, I am married. I have known Akshay for long. It was a personal choice to not talk about the marriage. We wanted to break the news just before our Indian wedding, which was scheduled to take place this month. However, we had to postpone it to 2018, following a loss in the family."
"In a quintessential Indian wedding, the couple is surrounded by guests. But we wanted the day to ourselves; the idea was to enjoy each and every moment with each other and with those who matter the most. Also, I always wanted a white wedding in a chapel located in a castle. Fortunately, Akshay shared the same dream and that's how we zeroed in on a picturesque castle in Northern Italy. It took me six months to finalise the venue. Since I am a die-hard romantic, there was no other way I would have done it," she added.
Surveen also said: "Initially, yes, as my films were up for release. But I soon crossed that bridge and realised that a talented actor will shine irrespective of her marital status. We need to take a cue from the West and get over such stigmas. International actresses go about flaunting their love life, marriage and babies without a care in the world. What matters is what I am doing on screen. Also, we suffered a personal loss and didn't know how to go about announcing the wedding then."
Talking about being a mother, "Though it's not going to happen in the near future, I will proudly announce when I embrace motherhood."
Talking to a leading website, Surveen also said: "I handpicked and curated everything myself personally. In fact, I wanted everything to have a personal touch as It was an extremely personal affair and I was hands-on everything. While working and honouring work commitments, I was also getting things arranged simultaneously."
We handpicked, decided and decoded everything ourselves. The location, Castel Brando, in the Veneto region located in Northern Italy, had a chapel inside which was a rare find and it felt as though it was almost tailor-made for us. We had the entire castle to ourselves for the span of the wedding".
It was a 2 day affair, starting with the night prior to the ceremony, where all friends and family had prepared a sort of a Show(skit) for us ..The next morning was the symbolic ceremony where we exchanged vows. After which we had a luncheon followed by an evening reception where close friends n family gave their speeches and ended it with Punjabi Bollywood dance night!"
"I couldn't have asked for a better partner, a companion who makes me a better person with every passing day. Being in love feels beautiful! Being married......even more!!!You just know it instantly when it feels right!
We wanted it to be a very low key private and personal affair, like I always dreamt of. We kept it private for a while and were waiting for the right time to announce, which couldn't have been more perfect than to bring in this New Year. Seeking the love and blessings of all my well-wishers and fans to celebrate the most precious day of my life with them," she concluded.