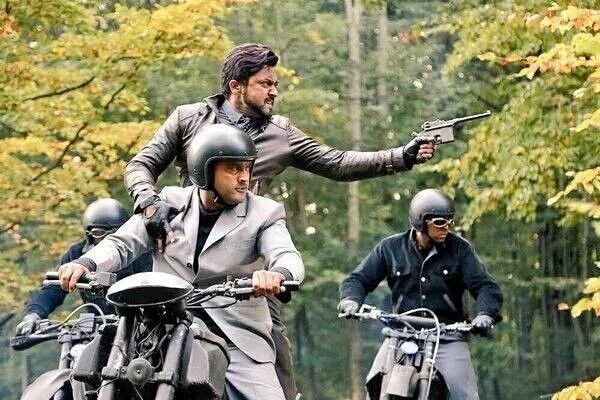 The fans of Suriya can breathe a sigh of relief as his "24" will release in the Chengalpet region. The dispute between the Producers' Council and Tamil Nadu Theatre Owners Association has been resolved. Thus, paving way for hassle-free release of the flick.
A crucial meeting was held on Friday, April 29, which was attended by the members of producers, distributors and exhibitors' associations. They sorted out their differences after discussing the issues for hours.
"All is well that ends well, #Chengalpet issue sorted out amicably. The Jambovans of the industry met at a hush - hush meeting & resolved, [sic]" journalist Sreedhar Pillai confirmed that the deadlock had ended on Twitter.
Sreedhar Pillai added, "Resolved 2 work together, let's forget what happened in the past. #Theri will b released over weekend. #24 2 b release across Chengalpet 2/2. [sic]"
The dispute between Kalaippuli S Thanu and exhibitors in the Chengalpet region started over the profit-sharing issue of recently-released "Theri." As the talks between them failed, most theatres in the Chengalpet, Thiruvallur and Kancheepraum regions did not screen the Vijay-starrer, which caused a huge loss to the producer.
Subsequently, Kalaipuli S Dhanu, with the backing from the Producers' Council, announced that the producers would not allow any Tamil films to be released in the theatres that virtually boycotted "Theri."
In response, the Tamil Nadu Theatre Owners Association threatened the producers' guild that they would boycott Kalaipuli S Dhanu's "Kabali" and other films in retaliation to their decision to not release any Tamil movie in those theatres.
With the issue now solved, "24" is set to release big in the Chengalpet region.
Meanwhile, Suriya's "24" has been censored with 'U' certificate. The movie made it to the theatres in Tamil and Telugu languages on May 6. The film will have its premiere shows in the U.S., a day before its official release in India.
Suriya, who is holidaying with his family in the U.S., will be attending the premiere show of "24."