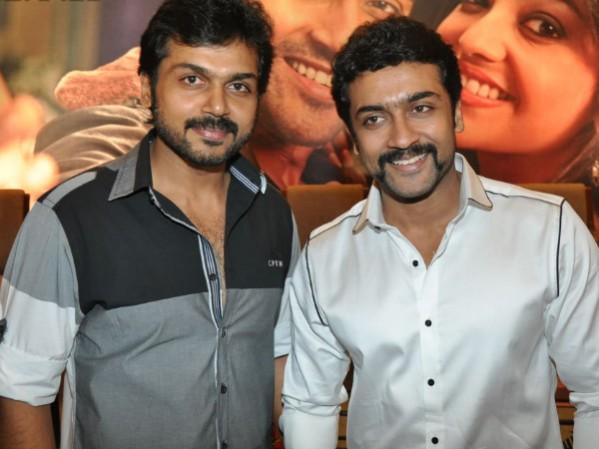 Actors Suriya, his brother Karthi and Vishal, the President of Tamil Film Producers' Council and Secretary of Nadigar Sangam, have taken an important step to ease the burden of the producers, who have often complained of excessive demands made by the stars.
The trio has decided to bear the expense of their personal assistants from now on, which will come as some relief to the producers. Till now, the producers were paying the stars' assistants.
The expenses of the assistants varies as per the popularity of the star and a rough estimate indicates that the producers will easily save around Rs 15-20 lakh. The latest decision taken by the actors have been welcomed by the Tamil Nadu Producers' Council.
"In support of the ongoing move to revamp the Tamil Film Industry. As a senior member of the fraternity, Mr. Suriya voluntarily has offered to bear and pay all his personal entourage expenses during the shooting of his films henceforth. This will amount to 30-40 Lakhs depending on the number of shooting days!" Behinwoods quote Rajsekar Pandian, director and co-producer of Suriya's 2D Entertainment, as saying.
With Rajinikanth and Kamal Haasan likely to bid goodbye to films due to their political ambitions, there will be pressure on stars like Ajith, Vijay and Vikram to follow in the steps of Suriya, Karthi and Vishal.
Many producers have often complained that the stars charge astronomical salaries and this result in huge losses for them when the movies fail to perform.
Meanwhile, the Kollywood crisis has remained unsolved as both the producers and Digital Service Providers' (DSP) are yet to find a solution.
"The deadlock over "new releases" continues in Kollywood. The warring factions Producers, DSP's & Theaters r still on different pages. The real issue now - Who will blink first? The 2018 Summer season kickstarts from next Friday with Easter Weekend, need new content urgently! [sic]" journalist Sreedhar Pillai wrote on Twitter.
Kollywood has gone on strike over issues with the DSPs. Hence, no movie has seen the light of the day this month.