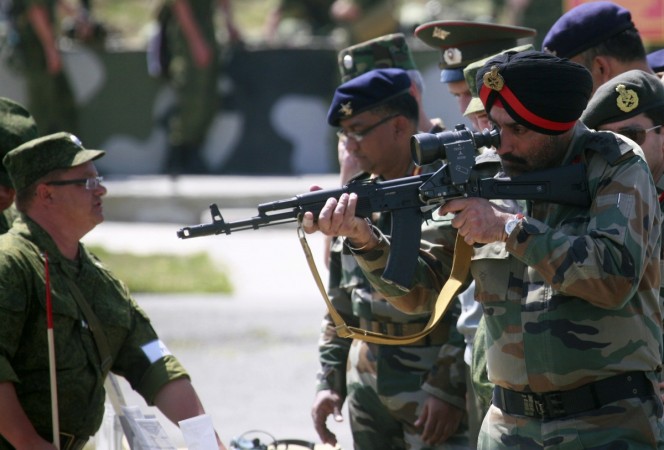 The surgical strikes carried out by India across the Line of Control (LOC) in Pakistan have been garnering much appreciation for the Indian Army.
Two Pakistani soldiers and over 30 terrorists were reportedly killed in the attack. The surgical strikes were in response to the terrorist attack at Uri in Jammu and Kashmir that killed 19 Indian Army soldiers.
Reactions have been coming up from all quarters. Several celebrities from Bollywood have also praised Indian Army personnel for successfully carrying out the operation.
On Thursday, a host of B-Town stars like Akshay Kumar, Shah Rukh Khan, Varun Dhawan and many others took to Twitter and congratulated the Indian soldiers for giving a reply to the terrorists residing in the neighbouring country. Check some of the tweets here:
Shah Rukh Khan: Thnk Indian army for the action against terrorism.V should all pray for safety & well being of our Indian soldiers.
Akshay Kumar: Proud of the Indian Army for successfully carrying out the anti-terrorism operation.Glad the Government took this bold step, was about time.
Varun Dhawan: Proud of our army they are the pride of our nation #IndiaArmy.
Arjun Rampal: Super proud that terrorism is spoken to in the language they understand.Let's unite borders by uniting against terrorism. #IndianArmy ki jai.
Raveena Tandon: Thank you @adgpi Indian Army for the much needed strike on terror camps in POK. You have made the world a lit safer... Jai HIND #salute.
Rahul Dev: Proud of the #IndianArmy as #IndiaStrikesBack thru #SurgicalStrike under PM @narendramodi wth no casualties #IndianFlag soars high #JaiHind.
Farhan Akhtar: In full support of the Indian Army and its effort to root out terrorism. #respect.
Mugdha Godse: Proud of our Indian Army, Tactful #SurgicalStrikesAgainstPak No war only #SurgicalStrike Bravo... #JaiHind @narendramodi #IndianArmy.
Riteish Deshmukh:Proud of our Indian Army & many congratulations to our Indian Government for their effective steps against terrorism. #IndiaFirst #JaiHind.
Paresh Rawal: Hats off Indian army ...Jai Ho.
Madhur Bhandarkar: Really proud of #IndianArmy for conducting surgical strikes across LOC to neautralise terrorists. Really bold step taken by @PMOIndia.
Lata Mangeshkar: Namaskar. Mujhe garv hai hamare veer jawano pe,hamare pradhan mantri ji aur raksha mantri ji pe. Jai Hind! Vande Mataram.