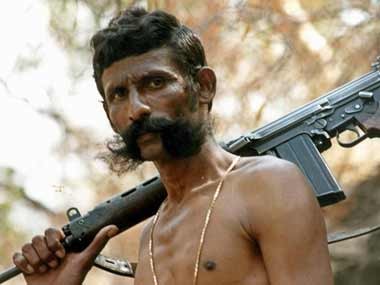 The Supreme Court on Monday stayed the execution of death penalty to four Veerappan aides till further orders.
The bench headed by Chief Justice of India (CJI) Altamas Kabir will now hear the writ petition on Wednesday.
"In the meantime, the execution of death sentence of four convicts shall remain stayed," bench including CJI, justices A.R. Dave and Vikramajit Sen told PTI.
"Let the writ petition be heard day after tomorrow," the bench added.
The four aides of late forest brigand were awarded capital punishment for their involvement in the the 1993 Palar landmine blast in which 22 policemen were killed.
The petition on behalf of the four convicts was filed by advocate Samik Narain. The court had given Narain the liberty to amend and rectify the petition after Attorney General G E Vahanvati raised objections on its maintainability.
The Supreme Court also added that though the petition was not maintainable, the case of the four convicts was similar to the case of other death row convicts pending consideration of the apex court.
The four aides of Veerapan - Simon, Meesekar Madaiah, Bilavendran and Gnanprakasham - who are presently lodged in Belgaum Jail had filed a petition on Saturday seeking stay on their death sentence following rumours that all four will be hanged on Sunday.
Senior advocate Colin Gonsalves along with his associate Samik Narain had approached Kabir on Saturday with a petition seeking urgent hearing on their plea. The CJI did not hear the matter on Saturday and said that there was no proof that the execution will take place on Sunday. He also assured that the matter will be taken up for hearing in due course. The mercy plea which was submitted in 2004 by four convicts was rejected by President Pranab Mukherjee on Feb 13.