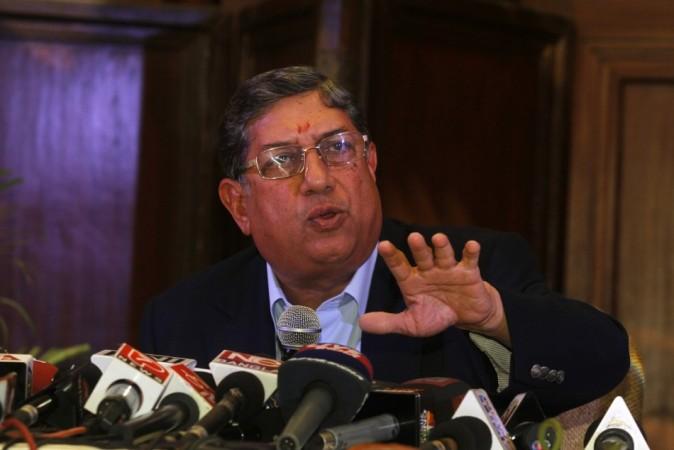 The Supreme Court has given N. Srinivasan permission to resume his duties as the Indian cricket board president, as long as the BCCI chief does not interfere in matters relating to the IPL.
The apex court let Srinivasan assume office, after he had won a further year's term in the AGM recently, saying Srinivasan had been elected "democratically", while no direct charges of corruption are levelled against him.
The Supreme Court also cleared the three-member probe panel that will investigate into the IPL spot-fixing scandal, with the final panel members the same as the three suggested on Monday - former High Court judge Mukul Mudgal, who will be the head, senior advocate Niloy Dutta and Additional Solicitor General L. Nageswara Rao.
The newly-constructed panel has been given four months' time to give its report and recommendations on the IPL corruption issue.
"We want this committee to probe the spot-fixing and this committee will report to us," one of the judges hearing the case, A.K. Patnaik, said.
The BCCI have been asked to bear the cost of the panel, while asking the board to pay ₹1 lakh per day.
"We had complete faith in the judiciary," BCCI secretary Sanjay Patel told PTI. "The BCCI accepts the court order with utmost humility. We are happy that Mr Srinivasan will be able to perform his presidential duties."
The ruling comes on a petition filed by the Cricket Association of Bihar, which had attempted to stop Srinivasan from contesting the elections. The Supreme Court allowed Srinivasan to do so, however, on September 29, but with a condition that he could not take charge as president until the matter in the court is resolved.
The CAB had filed a petition at the Supreme Court saying there was a conflict of interest involved in the two-member IPL panel constituted by the BCCI, and which the Bombay High Court termed "illegal."
The panel set up by the BCCI had given the IPL, including owners of the Chennai Super Kings and the Rajasthan Royals, a clean chit, which again led to much furore within the media and the public, who questioned the validity of the decisions.