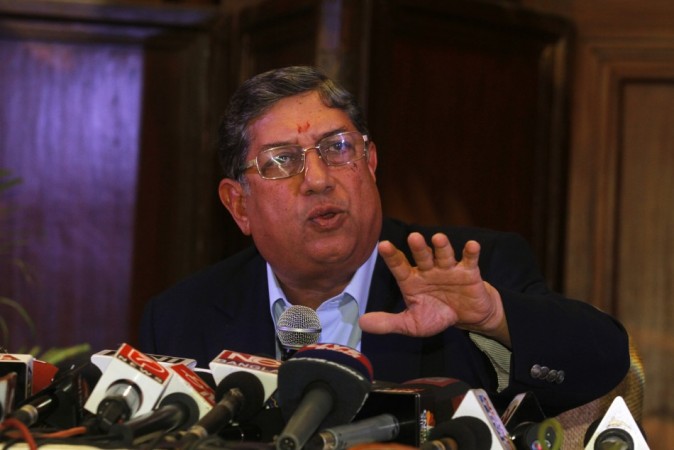 N Srinivasan was given a huge boost after the Supreme Court gave the under-fire president the go-ahead to contest the BCCI elections, but with certain prohibitions.
Srinivasan was hoping to stand for the president's position again in the BCCI Annual General Meeting in Chennai, with his two-year term set to end this month.
The Cricket Association of Bihar (CAB) had filed a petition asking the Supreme Court to stop Srinivasan from contesting for the president's post pending verdict on a petition filed by the CAB.
However, a bench comprising of Justice A.K. Patnaik and Justice Jagdish Singh Khehar said Srinivasan was free to contest elections, but with certain riders.
The Supreme Court ruling said Srinivasan will not be allowed to take charge as the president, meaning Jagmohan Dalmiya, who is currently looking after the day-to-day running of the BCCI, is likely to continue in his position, if Srinivasan, as expected, wins.
The original petition filed by the CAB had challenged the BCCI's ruling on the IPL spot-fixing scandal, with the Bombay High Court questioning the two-man committee was set up to probe the issues.
The case was set to be heard in early September, however, the Supreme Court could not hear that particular petition on the scheduled day of September 12, leaving the case in limbo.
Questions were raised on whether Srinivasan was protecting his son-in-law Gurunath Meiyappan, who was arrested by the Mumbai police and then later charged with betting illegally.
Despite all the furore, Srinivasan is expected to win an extension to the BCCI presidency, with the entire South Indian section in his favour.
As per the BCCI's constitution, to stand for election the candidate should be nominated by two boards from the candidate's home association. With Srinivasan confident of support from the South Zone, a problem is not expected.
The likes of Sharad Pawar and Shashank Manohar have been tipped to throw their hats into the ring, but it remain to be seen whether Srinivasan will have any sort of competition come Sunday.
According to reports, the Srinivasan team are doing their utmost to keep the BCCI members happy with several of them right now enjoying an all-expenses paid trip in Mahabalipuram, following the Special General Meeting in Chennai on Wednesday, which saw Lalit Modi banned for life.
While Srinivasan was hoping to be reinstated as the full-time president following the elections, it will also suit the CSK owner if Dalmiya continues as the caretaker president until all issues are resolved, with the latter set to be reportedly named the IPL chairman soon.